SORRY NO ITEMS WERE FOUND.
Please refine your search or try another search term.
Select a price range to suit your budget
SORRY NO ITEMS WERE FOUND.
Please refine the selected filters.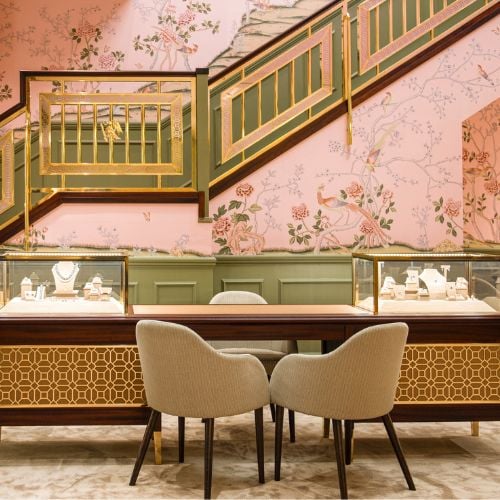 BOOK AN APPOINTMENT
Whether you book an appointment to visit us in person or opt for a virtual consultation from the comfort of your own home, you'll receive the same high standard of service and individual care and attention from our expertly trained consultants who can share designs, discuss gemstone options and even model pieces.
Frequently Asked Questions
Below are the answers to our most commonly asked questions. Should you want to find out more please feel free to Contact Us us and begin your Pragnell experience.
Tourmaline comes in a wide array of colours, making it one of the most diverse gemstones. It can be found in various shades of green, pink, blue, yellow, red, and even colourless, with some specimens displaying multiple colours within the same crystal, known as bi-colour or multi-colour tourmaline.
Gemstones that can resemble tourmaline in appearance include green garnet (tsavorite), green sapphire, and peridot, especially when it comes to green tourmaline. Pink tourmaline may be mistaken for pink sapphire or pink spinel stones. However, each gemstone possesses its unique characteristics, such as specific colour shades and optical properties, distinguishing them from genuine tourmalines.
To determine if a tourmaline is real, look for distinct colour variations within the stone, as genuine tourmaline often exhibit multiple colours. Additionally, check for natural flaws or inclusions, which are common in real tourmaline, as synthetic or imitation versions tend to lack such natural characteristics. Seeking the expertise of a professional gemmologist or jeweller can also help verify the authenticity of the tourmaline.
Tourmaline is believed to symbolise a harmonious and balanced life, promoting inner peace and creativity. It is thought to have various metaphysical properties, including protection from negative energies and the ability to enhance mental clarity and spiritual growth. Different colours of tourmaline may carry specific meanings, but overall, the stone is often associated with positive energy and healing properties.
Yes, tourmaline jewellery is in style and highly appreciated for its vibrant colours and unique appeal. Tourmalines come in a wide range of hues, making them versatile gemstones that complement various fashion trends and personal styles, making them a popular choice among those seeking distinctive and captivating jewellery pieces.
Yes, you can wear tourmaline jewellery every day, as it is a relatively durable gemstone. However, as with any jewellery, it's essential to handle it with care and avoid subjecting it to harsh chemicals or activities that may cause damage.
To care for tourmaline jewellery, avoid exposing it to harsh chemicals and extreme temperature changes. Clean gently with mild soapy water and a soft brush and avoid steam or ultrasonic cleaners that can damage the gemstone. Store tourmaline pieces separately to prevent scratching and protect them from sunlight, as prolonged exposure may cause colour fading. Regularly inspect and have them professionally cleaned by a jeweller to maintain their brilliance and beauty.
About Tourmaline
Tourmaline, named after the Sinhalese term "turmali," meaning "mixed gemstones," are a group of fascinating gemstones known for their stunning variety of colours.

Throughout history, tourmaline has been cherished by cultures worldwide for their captivating allure and spiritual significance. Ancient civilisations believed tourmalines possessed mystical powers and were used as talismans for protection and healing.

Today, tourmaline continue to hold immense appeal for jewellery enthusiasts due to its exceptional brilliance and wide spectrum of hues, making it a versatile and beloved gemstone choice for those seeking a burst of colour and individuality in their adornments.
Jewellery Listing Page