SORRY NO ITEMS WERE FOUND.
Please refine your search or try another search term.
Select a price range to suit your budget
SORRY NO ITEMS WERE FOUND.
Please refine the selected filters.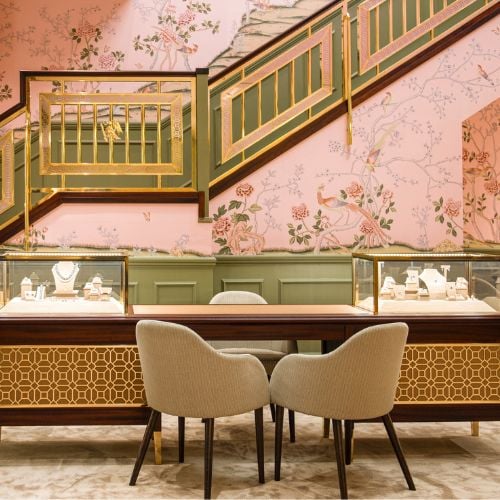 BOOK AN APPOINTMENT
Whether you book an appointment to visit us in person or opt for a virtual consultation from the comfort of your own home, you'll receive the same high standard of service and individual care and attention from our expertly trained consultants who can share designs, discuss gemstone options and even model pieces.
Frequently Asked Questions
Below are the answers to our most commonly asked questions. Should you want to find out more please feel free to Contact Us us and begin your Pragnell experience.
Aquamarine is typically characterised by its delicate, pale blue to greenish-blue colour reminiscent of the clear waters of the sea. Its serene hue ranges from light, almost transparent shades to deeper, more intense tones, often with a hint of green.
Gemstones that can resemble aquamarine in appearance include blue topaz, blue beryl (such as aquamarine's close relative, maxixe), blue tourmaline (known as indicolite), and certain varieties of blue sapphire and blue zircon. These gems often display shades of blue ranging from light to medium tones, capturing the essence of the serene and refreshing hues associated with aquamarine.
To determine if aquamarine is real, closely examine its colour and clarity. Authentic aquamarines usually exhibit a clear and bright blue or blue-green hue, while fake ones may appear overly pale or have unnatural colours. Additionally, consult a professional gemmologist or jeweller who can use specialised tools to accurately authenticate the aquamarine and distinguish it from imitations or synthetic alternatives.
Aquamarine is commonly associated with qualities such as serenity, tranquillity, and clarity. It is regarded as a symbol of courage, communication, and harmony, often believed to enhance one's ability to express emotions, promote inner peace, and bring a sense of balance and alignment.
Yes, aquamarine jewellery remains in style due to its serene blue hues and elegant appeal. Its association with tranquillity and a connection to the sea makes it a sought-after gemstone for various occasions, making it a popular choice among fashion-conscious individuals and those who appreciate its soothing and captivating beauty.
Yes, you can wear aquamarine jewellery every day, as it is a relatively durable gemstone. However, it's essential to take care and avoid exposing it to harsh chemicals or rough activities that may cause damage to the stone or its setting. Regular cleaning and proper storage will help maintain the beauty of your aquamarine jewellery for daily wear.
To care for aquamarine jewellery, it is important to protect it from harsh chemicals and extreme temperature changes. Clean with mild soapy water and a soft brush, avoiding ultrasonic cleaners and steam cleaning. Store separately to prevent scratches and avoid prolonged exposure to sunlight, as it may cause fading or colour changes over time.
About Aquamarines
Aquamarine, named after the Latin words "aqua marina," meaning "water of the sea," is a captivating gemstone with a mesmerizing blue hue reminiscent of the ocean's tranquil waters.

It has a rich history and has been revered by various cultures throughout time. Ancient sailors believed aquamarine offered protection during their voyages, while the Romans associated it with Neptune, the god of the sea.

In addition to its connection to the water element, aquamarine symbolizes serenity, courage, and clear communication. This alluring gemstone has been cherished for its beauty and believed to bring harmony, inner peace, and a sense of calmness. Its association with the soothing qualities of water makes aquamarine a beloved gemstone, evoking a sense of tranquillity and connection to nature.
Jewellery Listing Page