SORRY NO ITEMS WERE FOUND.
Please refine your search or try another search term.
Select a price range to suit your budget
SORRY NO ITEMS WERE FOUND.
Please refine the selected filters.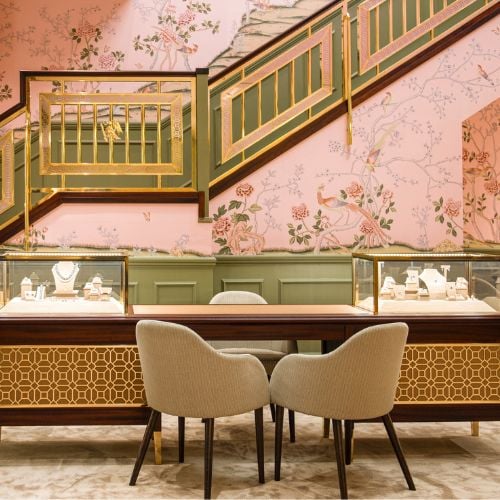 BOOK AN APPOINTMENT
Whether you book an appointment to visit us in person or opt for a virtual consultation from the comfort of your own home, you'll receive the same high standard of service and individual care and attention from our expertly trained consultants who can share designs, discuss gemstone options and even model pieces.
Frequently Asked Questions
Below are the answers to our most commonly asked questions. Should you want to find out more please feel free to Contact Us us and begin your Pragnell experience.
Tanzanite is most prized for its captivating blue-violet colour, which can range from a deep, rich blue to a stunning violet with flashes of purple. The stone's colour is enhanced when viewed under different lighting conditions, displaying a remarkable play of hues that make it highly sought after in the world of gemstones.
Gemstones that can resemble tanzanite in appearance include certain varieties of blue sapphire, iolite, and some blue spinel stones. However, each gemstone possesses its unique characteristics and properties, distinguishing them from genuine tanzanite. Tanzanite's striking blue-violet colour and pleochroism (showing different colours from different angles) make it a distinct and highly prized gemstone.
To determine if a tanzanite is real, closely examine its colour and clarity. Genuine tanzanite typically display a distinct blue-violet hue, while fake ones may appear too dark or lack the gem's natural brilliance. Additionally, seek the assistance of a professional gemmologist or jeweller, who can use specialised tools to accurately authenticate the tanzanite and distinguish it from imitations or synthetic alternatives.
Tanzanite is believed to symbolise spiritual growth, transformation, and higher consciousness. It is thought to bring a sense of calm and insight to its wearer, promoting mindfulness and a deeper connection with one's inner self. Tanzanite is also considered a stone of healing and wisdom, inspiring positive change and personal growth.
Yes, tanzanite jewellery is in style and gaining popularity due to its mesmerising and unique blue-violet hues. As a relatively rare gemstone, tanzanite is cherished for its striking colour and limited availability, making it a sought-after choice among fashionable individuals and collectors alike.
While tanzanite is relatively durable, it is not as hard as some other gemstones like diamonds or sapphires. Therefore, it's advisable to wear tanzanite jewellery with care and avoid exposing it to rough activities or harsh chemicals to prevent potential damage. Occasional wear and proper storage will help maintain the beauty and brilliance of your tanzanite jewellery.
To care for tanzanite jewellery, avoid exposing it to harsh chemicals and extreme temperature changes. Clean gently with mild soapy water and a soft brush and avoid steam or ultrasonic cleaners that can damage the gemstone. Store tanzanite pieces separately to prevent scratching and avoid prolonged exposure to sunlight, as it may cause fading or colour changes over time. Regularly inspect and have them professionally cleaned by a jeweller to maintain their brilliance and beauty.
About Tanzanite
Tanzanite, named after its country of origin, Tanzania, is a mesmerising gemstone celebrated for its captivating blue-violet hues. Discovered in the 1960s, tanzanite quickly gained popularity due to its rarity and exquisite beauty.

Throughout history, tanzanite has been associated with spiritual transformation and a deeper connection with the divine. This gemstone is believed to promote emotional healing and encourage positive growth in one's life. Tanzanite's allure and scarcity have made it a sought-after gem, gracing elegant jewellery pieces, and captivating the hearts of gemstone enthusiasts worldwide.
Jewellery Listing Page