The 4 Cs: Diamond Cut
What is diamond cut? Diamond cut is often used to describe a diamond's shape. However, the cut on a GIA certificate actually refers to how well the diamond has been cut and polished.

At Pragnell, we believe cut is the most important C, as it gives the diamond life. We look at how the cut has been executed to ensure it has been done to a high standard, and we only use diamonds whose cut is graded 'Very Good' or above.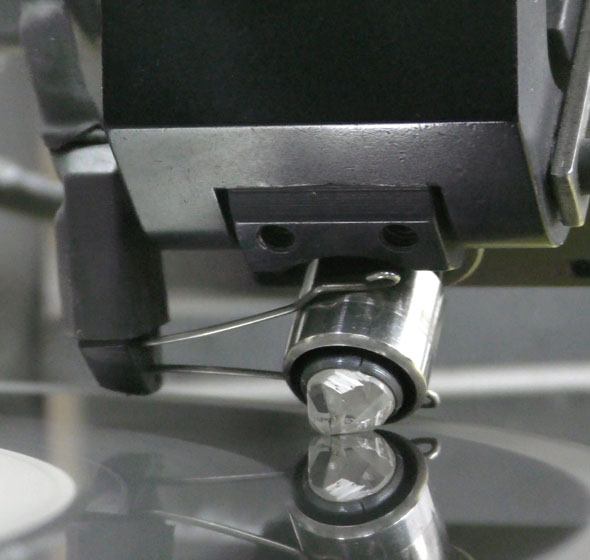 Why Is Diamond Cut Important?
A well cut diamond reflects light internally and then returns it through the top of the stone, making it look livelier and more brilliant. Diamonds that are cut too deep or too shallow will lose light, making them appear less sparkly and decreasing their value.

The GIA also assesses a diamond's symmetry and balance, and how well it has been polished. The resulting cut grade ranges from 'Excellent' to 'Poor'.

The characteristics of a well cut diamond are superior brilliance, fire and scintillation – these are what make a diamond perform and sparkle.

Brilliance: the reflection and refraction of white light through the diamond.

Fire: the dispersion of light into colour.

Scintillation: the contrast between the light and dark areas of the diamond.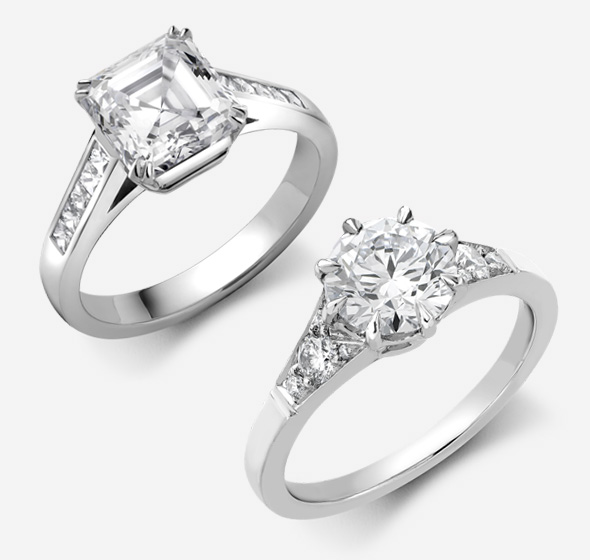 Types of Diamond Cut
There are two main diamond cuts: step cut and brilliant cut. Step Cut
A step cut diamond cut is either square or rectangular shaped, where the facets are parallel to each other. As the name suggests, facets look like steps. Step cut is used in Emerald and Asscher shape diamonds.

Brilliant Cut
A brilliant cut diamond is often described as a cone shape. The diamond is polished and cut to maximize fire, brilliance and brightness. Brilliant cut is used in round, pear, oval, and princess shape diamonds.
Avoid Diamonds Wearing a Bow Tie
A diamond bow tie effect occurs when light is not reflected properly due to the diamond's cut. It consists of a darkened area that runs across the width of the diamond's body and resembles a bow tie – hence the name. In essence, the bow tie is a shadow inside the diamond. This occurs when some of the facets in the middle of the diamond are poorly cut; these facets do not reflect light properly, regardless of the direction in which you turn or tilt the diamond.

A bow tie is one of the more easily noticeable defects a diamond can have, and you don't need to be an expert to identify a diamond wearing a bow tie. When purchasing a diamond shape that could be prone to bow ties, such as Oval, Pear, or Marquise, always make sure that you inspect the stone carefully in various lights and at different angles.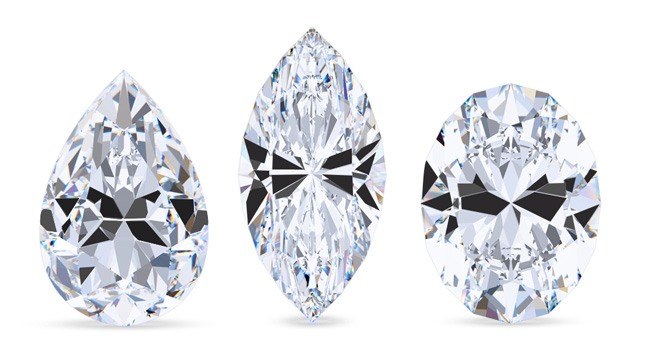 View By Category
Explore a selection of pieces from across the Pragnell range​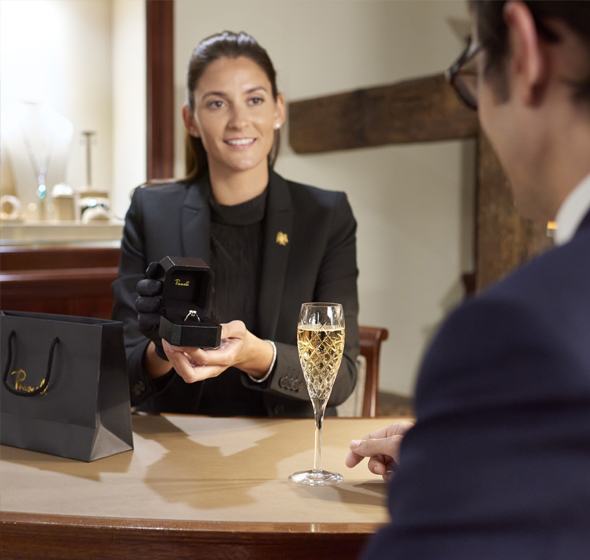 Make an Appointment
Our expert consultants are on hand to guide you through the process of choosing your eternity ring and answer any questions you may have, whether you book an appointment, or visit us to browse.

Visit one of our three showrooms and speak with one of our experts.

Alternatively, if you are unable to visit the showroom, you can book a virtual appointment. One of our experts will video call you to understand your requirements - you'll receive our usual high standard of service, all from the comfort of your own home.
You May Be Interested In
Jewellery CLP Page