SORRY NO ITEMS WERE FOUND.
Please refine your search or try another search term.
Select a price range to suit your budget
SORRY NO ITEMS WERE FOUND.
Please refine the selected filters.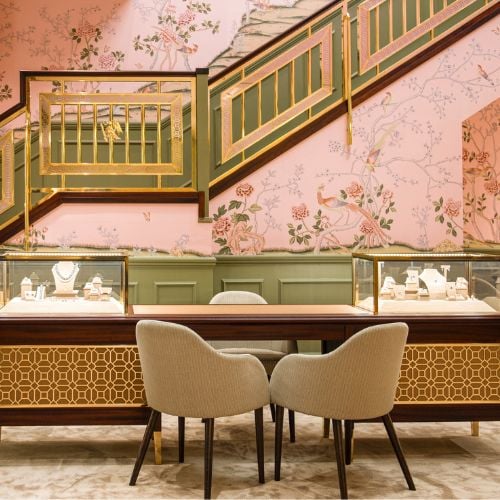 BOOK AN APPOINTMENT
Whether you book an appointment to visit us in person or opt for a virtual consultation from the comfort of your own home, you'll receive the same high standard of service and individual care and attention from our expertly trained consultants who can share designs, discuss gemstone options and even model pieces.
Frequently Asked Questions
Below are the answers to our most commonly asked questions. Should you want to find out more please feel free to Contact Us us and begin your Pragnell experience.
A quartz watch is a watch powered by a battery or solar cell, in which timekeeping is regulated by a quartz crystal that vibrates at a certain frequency. Quartz watches differ from mechanical watches in that they are typically more accurate, and self-sustaining for 12 months or more.
Yes, quartz watches require batteries, and they tend to last up to a year with regular wear.
Quartz watch batteries last up to a year with regular use.
Whilst most luxury watches are automatic, quartz watches can still be considered luxury items. A ladies' cocktail watch generally uses a quartz movement to allow a delicate aesthetic that resembles jewellery.
You can generally tell the difference between an automatic and quartz watch by looking at the second hand. Quartz watches use a quartz crystal and stepping motor, which gives a characteristic stop-start or ticking motion. An automatic timepiece releases its power gradually through mechanical regulation, giving a much smoother sweeping motion.
About Quartz Watches
Unlike Mechanical or automatic movements which draw power from a mainspring, quartz watches are powered by a battery which travels through a circuit board, into a "quartz oscillator", back into the microchip, and then out to all the relevant parts of the watch. Up to the late 1960s, the watchmaking world was complexly dominated by mechanical or automatic movements, until the first quartz watch was released in 1969 to high acclaim. The creation of this timepiece signified the start of the quartz revolution.

Quartz watches tend to last longer than any other type of watch, owing to the simple mechanism, there are fewer watch parts to repair. This means the mechanism tends to stay sturdy for a long time, requiring less serving and regulation. Quartz watches are also low-maintenance and do not require any winding as the battery and quartz crystal do all the work.

Due to the elegant simplicity of a quartz movement and the ability of watch brands to mass produce such movements, they are a much cheaper alternative to mechanical or automatic watches. For the traditionalists, quartz watches don't compare to the masterful engineering of a mechanical movement watch. However, owing to such precise accuracy alongside considered detail and elegant aesthetics, quart watches occupy an important place in the watchmaking world.
Watch Listing Page