SORRY NO ITEMS WERE FOUND.
Please refine your search or try another search term.
Select a price range to suit your budget
SORRY NO ITEMS WERE FOUND.
Please refine the selected filters.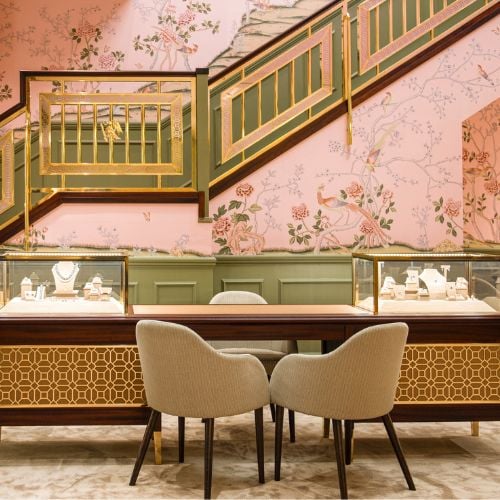 BOOK AN APPOINTMENT
Whether you book an appointment to visit us in person or opt for a virtual consultation from the comfort of your own home, you'll receive the same high standard of service and individual care and attention from our expertly trained consultants who can share designs, discuss gemstone options and even model pieces.
Frequently Asked Questions
Below are the answers to our most commonly asked questions. Should you want to find out more please feel free to Contact Us us and begin your Pragnell experience.
Amethyst is typically recognised for its purple colour, which can range from pale lavender to deep violet. It is renowned as a gemstone that exhibits shades of purple, often associated with royalty, spirituality, and tranquillity.
Gemstones that can resemble amethyst in appearance include purple quartz varieties such as lavender quartz, chevron amethyst, and cape amethyst. These gems share similar shades of purple, ranging from pale lavender to deep violet, often displaying the characteristic transparency and brilliance associated with amethyst.
To determine if amethyst is real, observe the stone's colour and clarity. Genuine amethyst typically displays a consistent, vivid purple hue, while fake amethysts may have overly dark or pale colours. Additionally, consult a professional gemmologist or jeweller who can use specialised tools to accurately authenticate the amethyst and distinguish it from imitations or synthetic alternatives.
Amethyst is commonly associated with qualities such as peace, serenity, and spiritual protection. It is seen as a stone that promotes clarity of thought, inner strength, and balance, making it a symbol of wisdom and emotional well-being.
Yes, amethyst jewellery remains in style due to its captivating purple hues and versatility. Its timeless elegance and affordability make it a popular choice for both casual and formal occasions, making it a sought-after gemstone among jewellery enthusiasts and fashion-forward individuals.
Yes, you can wear amethyst jewellery every day, as it is a relatively durable gemstone. However, it's essential to handle it with care and avoid exposing it to harsh chemicals or rough activities that could potentially damage the stone or its setting. Regular cleaning and proper storage will help preserve the beauty of your amethyst jewellery for daily wear.
To care for amethyst jewellery, it is important to protect it from scratches and harsh blows. Clean with warm soapy water and a soft brush, avoiding exposure to ultrasonic cleaners or steam cleaning. Store separately to prevent scratching and avoid prolonged exposure to sunlight or extreme temperature changes.
About Amethysts
Amethyst gets its name from the Greek word ametusthos which means 'not intoxicated' or 'not drunk'. For centuries, amethyst healing properties are thought to help prevent overindulgence, with the Ancient Greeks believing you could drink all night and remain sober if you had an amethyst in your mouth or on your person. They not only wore amethyst gemstones, as a necklace or pendant, but also carved out drinking vessels from it and sometimes even adding powdered amethysts to their drink.

Royalty associated the colour purple with nobility and high-ranking priests wore amethysts to represent piety. At this time, only people of the highest social status wore amethysts, however, over the centuries, more sources of the colourful gem were discovered, making it more available and affordable.
Jewellery Listing Page