SORRY NO ITEMS WERE FOUND.
Please refine your search or try another search term.
Select a price range to suit your budget
SORRY NO ITEMS WERE FOUND.
Please refine the selected filters.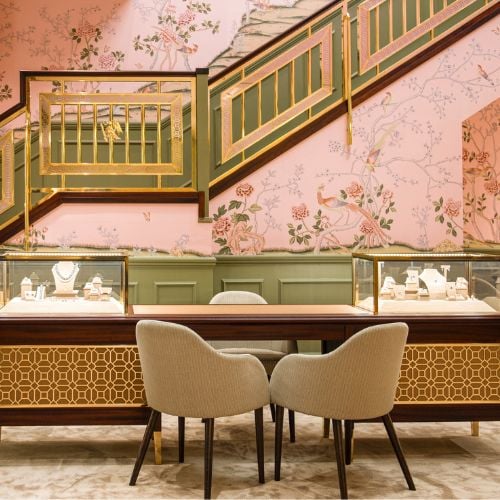 BOOK AN APPOINTMENT
Whether you book an appointment to visit us in person or opt for a virtual consultation from the comfort of your own home, you'll receive the same high standard of service and individual care and attention from our expertly trained consultants who can share designs, discuss gemstone options and even model pieces.
Frequently Asked Questions
Below are the answers to our most commonly asked questions. Should you want to find out more please feel free to Contact Us us and begin your Pragnell experience.
Opal gemstones can range in colour from white, yellow, orange, red, green, blue, purple and even black. The most common type of opal is white or milky in colour.
Opals have a unique appearance, and there are no gemstones that exactly replicate their play of colours and internal structure. However, certain stones like moonstones and labradorites may display some similar iridescence or colour-play, but they lack the distinctive and captivating "opalescence" that sets opals apart as a truly remarkable and irreplaceable gemstone.
To determine if an opal is real, you can observe its play of colours and iridescence under different lighting conditions. Genuine opals will display a captivating play of colours, while fake ones may look dull or lack the characteristic iridescence. Additionally, you can consult with a professional gemmologist or jeweller who can perform tests like magnification and specific gravity to verify the authenticity of the opal.
Opals symbolise inspiration and creativity, as they are often associated with the vibrancy of imagination and artistic expression. They are also believed to represent hope, love, and happiness, making them a symbol of positive emotions, and bringing good fortune to the wearer.
Opal jewellery is always in style, as it is a timeless and classic look. Opal jewellery is popular for its unique play of colours and can be worn for any occasion.
Yes, you can wear opal jewellery every day. Opals are actually quite durable and can withstand daily wear and tear. However, due to their delicate nature, it is recommended to take off opal jewellery before doing any strenuous activities and store it safely in a jewellery box when not in use.
When caring for opal jewellery, it is important to store it away from other jewellery and hard objects to avoid scratching the opal. Additionally, chemical cleaners and ultrasonic cleaners should be avoided, and the jewellery should be cleaned with a soft cloth and warm soapy water. Dirt and debris should be removed with a soft cloth or a soft brush, and the jewellery should not be exposed to extreme temperatures.
Furthermore, it is advised to have the jewellery inspected by a jeweller every few years. At Pragnell, we offer
jewellery polishing and cleaning services
if you wish to see your jewellery sparkle like when you first wore it. When not wearing the jewellery, it should be stored in a soft cloth or a jewellery box to protect it from dust and dirt.
About Opals
Opals, named from the Latin word "opalus," are gemstones of exceptional beauty and captivating play of colours. Throughout history, opals have been revered for their unique appearance, reminiscent of shifting rainbows and mystical charm.

Ancient civilisations believed opals to hold magical properties and bring good fortune, making them highly prized. Opals were often associated with various folklore and legends, symbolising hope, love, and creativity.

Today, opals continue to enchant and fascinate, showcasing their ethereal allure in exquisite jewellery designs, making them a cherished gemstone among collectors and those seeking distinctive and remarkable pieces.
Jewellery Listing Page