Sir Patrick Stewart wins the Pragnell Shakespeare Award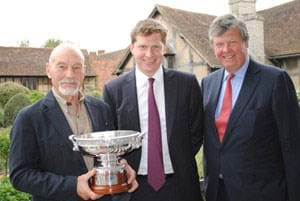 The 2011 Pragnell Shakespeare Award was received by Sir Patrick Stewart at the Shakespeare Birthday Celebrations on Saturday 30th April.

The award was established in 1990 by Jeremy Pragnell, Chairman of Pragnell, in order to recognise outstanding achievement in extending the appreciation and enjoyment of the works of William Shakespeare and in the general advancement of Shakespearian knowledge and understanding. Previous winners include Dame Peggy Ashcroft, Sir Ian McKellen and Dame Judy Dench.
Pragnell is but a few minutes' walk from Shakespeare's Birthplace and the Royal Shakespeare Theatre and has had close ties with both for many years. The family run business feels a keen sense of pride in supporting such an intrinsic aspect of Stratford-upon-Avon and its heritage.
Visit Pragnell
From Market Street to Mayfair you can be sure of a warm welcome at any of our showrooms across Great Britain.