SORRY NO ITEMS WERE FOUND.
Please refine your search or try another search term.
Select a price range to suit your budget
SORRY NO ITEMS WERE FOUND.
Please refine the selected filters.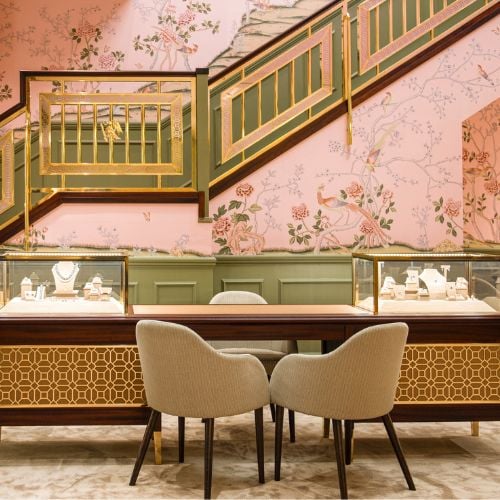 BOOK AN APPOINTMENT
Whether you book an appointment to visit us in person or opt for a virtual consultation from the comfort of your own home, you'll receive the same high standard of service and individual care and attention from our expertly trained consultants who can share designs, discuss gemstone options and even model pieces.
About Omega Ladies Watches
For over a hundred and fifty years, Omega have been creating the most delicate and reliable women's watches.

All Omega ladies' watches are chronometer-certified for reliable precision and accuracy in timekeeping and water-resistant to a range of depths from 100 to 600 metres. 

For the perfect finish, these lavish timepieces have been crafted with luxury materials, including diamonds, sapphire crystals and 18ct gold.

Ladies Omega watch models include:

Omega Constellation: The Omega Constellation is an iconic collection known for its elegant and refined designs. It often features the iconic "Griffes" or claws on the bezel and a distinctive "Pie-Pan" dial. Constellation watches are available in various sizes and materials, including stainless steel, two-tone, and precious metals like gold and platinum. They may come with diamond-set dials, bezels, or bracelets, adding a touch of luxury.

Omega Seamaster Aqua Terra: The Omega Seamaster Aqua Terra is a versatile and sporty collection designed for both land and water. These watches feature a teak-patterned dial and are available in various sizes and materials. Some models have diamond accents for a touch of sophistication. Aqua Terra watches are often celebrated for their precision and resistance to magnetic fields.

Omega De Ville: The Omega De Ville collection includes a range of elegant and classic timepieces. It offers various styles, from simple dress watches to more intricate models with diamond-set bezels and dials. De Ville watches are suitable for formal occasions and everyday wear. The De Ville is a must-have for any true connoisseur of fine watches.

Omega Trésor: The Omega Trésor collection is known for its ultra-thin profile and minimalist design. It features slim cases and clean dials with discreet diamond details. Trésor watches are ideal for those who appreciate understated elegance.
Watch Listing Page