SORRY NO ITEMS WERE FOUND.
Please refine your search or try another search term.
Select a price range to suit your budget
SORRY NO ITEMS WERE FOUND.
Please refine the selected filters.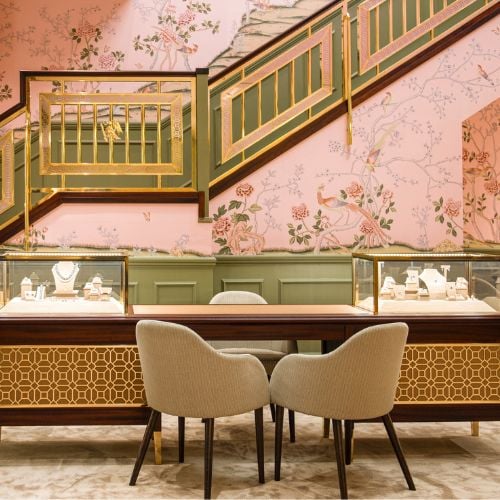 BOOK AN APPOINTMENT
Whether you book an appointment to visit us in person or opt for a virtual consultation from the comfort of your own home, you'll receive the same high standard of service and individual care and attention from our expertly trained consultants who can share designs, discuss gemstone options and even model pieces.
About Cartier Watches
Cartier is one of the oldest surviving jewellers in the world. Although Cartier were predominantly creators of fine jewellery and leather goods, rather than watchmakers, they have had a significant influence on the horological world.

In 1847, Adolphe Picard handed ownership of his Paris based workshop and jewellery store to his apprentice, Louis-François Cartier. Cartier continued the tradition of fine watch and jewellery making, establishing the brand's reputation. Louis-François' son, Alfred Cartier joined the company in 1874; he brought with him a vision for expanding into fine watches. In 1888, they produced the first ladies' wristwatches.

In 1899, Louis Cartier joined the family firm, bringing with him a passion for mechanical pocket watches. However, he also wanted the company to build an impressive watch brand. He was given his chance to do this when he met Brazilian aviator, Alberto Santos-Dumont, in 1904. Santos-Dumont complained that the size, shape and unreliability of pocket watches made them unsuitable for flying. Louis took on this challenge, and in 1911 the first men's watch, the Cartier Santos, was launched. It was a flat timepiece, designed to be worn on the wrist with a leather strap. It also featured a distinctive square bezel. The watch was a hit with Santos-Dumont, and his celebrity status made men's watches fashionable for the first time. Cartier had a substantial influence in persuading the Parisian aristocracy to accept the idea of wristwatches for men. In doing so, Louis Cartier laid the foundations of a new concept in luxury goods.

Along with the Cartier Santos, the Cartier Ballon Bleu, and the Cartier Tank are also popular models in the Cartier line-up. The Tank is one of the most famous Cartier watch models; the original Tank entered full production in 1919 and is still in production to this day. It was inspired by the new Renault tanks seen on the Western Front in WWI. Over the years Cartier watches have graced the wrists of many notable individuals, among them Mohammed Ali, JFK, Andy Warhol, and Princess Diana.
Watch Listing Page