SORRY NO ITEMS WERE FOUND.
Please refine your search or try another search term.
Select a price range to suit your budget
SORRY NO ITEMS WERE FOUND.
Please refine the selected filters.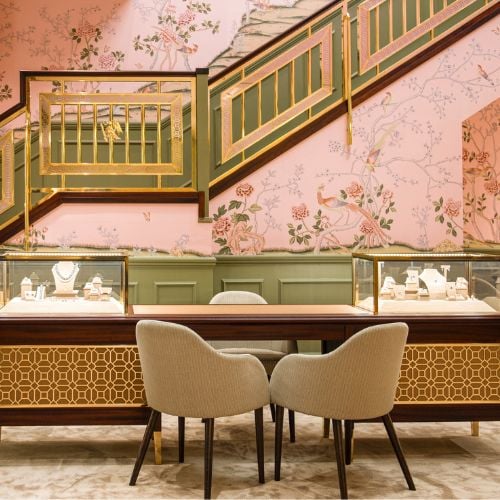 BOOK AN APPOINTMENT
Whether you book an appointment to visit us in person or opt for a virtual consultation from the comfort of your own home, you'll receive the same high standard of service and individual care and attention from our expertly trained consultants who can share designs, discuss gemstone options and even model pieces.
About Cartier Men's Watches
Since its founding in 1847 in Paris, Cartier has been renowned as one of the leading Maison's for men's timepieces. Popular Cartier watches for men include:

Cartier Santos: In 1904, the Cartier Santos was the first Cartier men's wristwatch, created when Louis Cartier met with his Brazilian aviator friend Alberto Santos-Dumont who asked for a watch that allowed his hands to remain free for controls while flying. In 1911, it was officially available to the public. Notable characteristics include a square case with rounded corners and visible screws on the bezel. Santos watches are available in diverse materials, including stainless steel and opulent gold, providing options for both casual and formal wear.

Cartier Tank:  Introduced in 1918, the Cartier Tank is an iconic collection celebrated for its enduring and sophisticated aesthetics. It showcases a distinctive rectangular case with clean lines and classic Roman numeral hour markers. Tank watches come in a range of sizes and materials, from stainless steel to luxurious precious metals, offering versatility for various occasions.

Cartier Pasha:  The Cartier Pasha, introduced in 1985, is an emblematic collection known for its unique blend of sophistication and rugged elegance. Featuring a round case with a distinct crown protector, it offers an eye-catching design element that sets it apart from the rest. Pasha de Cartier watches are recognised for their remarkable water-resistant capabilities, making them a stylish and practical choice for those with an adventurous spirit. Available in a variety of materials, these timepieces cater to diverse preferences, ranging from stainless steel to luxurious precious metals.

Cartier Ballon Bleu:  Created in 2007, the Ballon Bleu is an optical illusion encased in a domed crystal. It challenges our perception of time and space. The Cartier Ballon Bleu stands out with its unique round case and distinctive blue cabochon crown. This collection offers a wide range of sizes, materials, and design variations. It exudes a luxurious and sophisticated aura, making it suitable for diverse occasions.
Watch Listing Page