SORRY NO ITEMS WERE FOUND.
Please refine your search or try another search term.
Select a price range to suit your budget
SORRY NO ITEMS WERE FOUND.
Please refine the selected filters.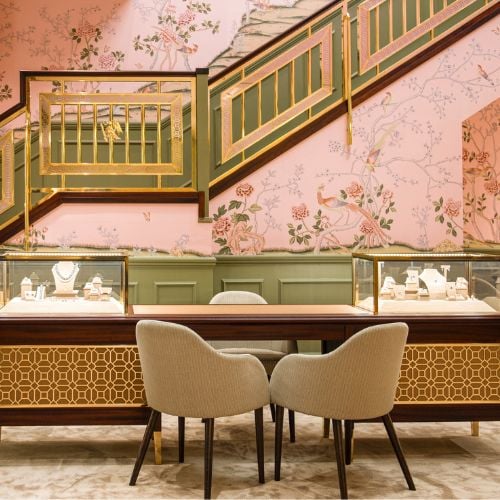 BOOK AN APPOINTMENT
Whether you book an appointment to visit us in person or opt for a virtual consultation from the comfort of your own home, you'll receive the same high standard of service and individual care and attention from our expertly trained consultants who can share designs, discuss gemstone options and even model pieces.
About Longines
The Longines story began in 1832, in Saint-Imier, Switzerland. Auguste Agassiz, brother to the famous naturalist Louis, and his two partners opened an establishment to make and sell pocket watches.

Longines is French for long meadows; this describes where the factory is located and how the watch brand acquired its name. All watches leaving the factory bear the Longines name and the winged hourglass logo. This pairing of name and logo is the oldest brand name registered with the World Intellectual Property Organisation. The winged hourglass logo was inspired by aviation and is recognised worldwide for being associated with quality accurate sports watches and chronographs.

Longines watches are well known for being reliable, accurate timepieces; these characteristics led to them being the official timekeeper in many major sporting events, such as Royal Ascot and the Commonwealth Games. A popular sporting watch is the Longines Hydroconquest, designed with meticulous attention to detail, it is reliable, solidly built and has excellent water resistance.

Both their men's and women's designs carefully fuse elegance, tradition and performance to create exceptional timepieces. Each collection carries its own style, while staying true to the timeless elegance that is the essence of the brand, making them popular with classic watch lovers.

In 1969, Longines unveiled the Ultra-Quartz. This movement was considered to be the first in mass-produced quartz wristwatches, bringing in a new era of accuracy in wristwatches. They have produced a series of ultra-thin Quartz watches and in the 1980s produced a world record ultra-thin model, the Feuille d'Or, at just 1.98mm thick.
Watch Listing Page