SORRY NO ITEMS WERE FOUND.
Please refine your search or try another search term.
Select a price range to suit your budget
SORRY NO ITEMS WERE FOUND.
Please refine the selected filters.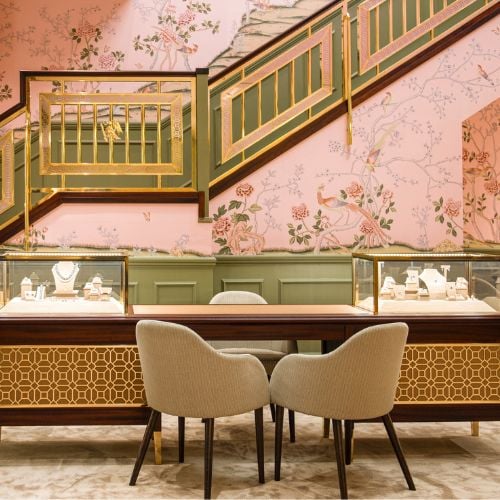 BOOK AN APPOINTMENT
Whether you book an appointment to visit us in person or opt for a virtual consultation from the comfort of your own home, you'll receive the same high standard of service and individual care and attention from our expertly trained consultants who can share designs, discuss gemstone options and even model pieces.
About Breguet
Abraham-Louis Breguet opened his watch shop in Paris in 1775, following his watchmaking apprenticeship. He was forced to leave France during the Revolution, but returned in 1795 to rebuild his business. Breguet watches are identifiable by their unique designs. Around 1786, Abraham-Louis started fitting his watches with engine-turned silver or gold dials of his own design. These handcrafted motifs are one of the hallmarks of a Breguet watch; they make the brand's dials immediately recognisable and are celebrated for their intricate patterns and ability to reflect the movements within the watch. In 1801 he invented and patented the tourbillon regulator, a revolutionary mechanism that neutralised the effects of gravity, providing incredible precision in mechanical timepieces.

In 1824, the son of the founder, Antoine-Louis, took over the company and continued to pursue the famous work of his father. The company was passed through another two generations. However, in 1870 the watchmaking branch was sold to the head of the workshop, Edward Brown. Breguet changed owners multiple times over the next century, with 1999 proving a new start for the company when it joined the Swatch Group.

Abraham-Louis' impact on the watchmaking world was not lost through the changing of ownership; he left behind his legacy and is known as one of the greatest figures in watchmaking history. Breguet watches are all made with the tradition and qualities laid down by the founder.

Popular models in the Breguet range include Marine and the Classique. The Breguet Marine models are crafted with traditional values, yet are interpreted in such a way to create sporty timepieces. The Breguet Classique is true to the technical principles, artistry and traditional values of a Breguet watch.
Watch Listing Page