Diamond Anatomy
The three most important components of a diamond's anatomy are diameter, table and depth. The ratio of the table to the diameter, and the depth to diameter, are prominent factors in determining a diamond's cut grade. While understanding a diamond's anatomy can be helpful, the diamond's cut grade should be used as a guide when purchasing diamonds. Learn more about Diamond Cut.

Here we explain the different parts of a diamond to help you understand the terminology that describes a diamond's features.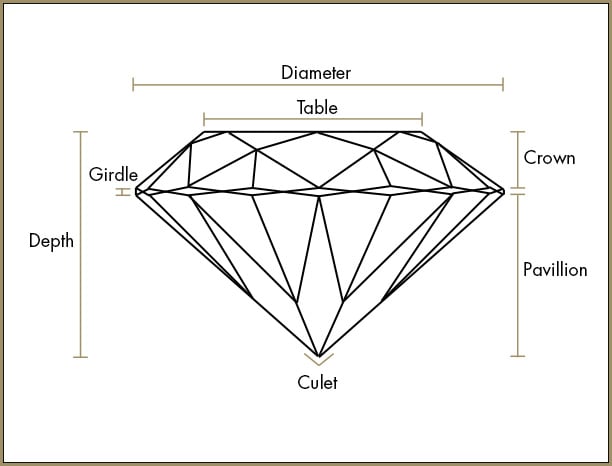 Diameter
The width of the diamond as measured through the girdle from one end to the other.
Table
The flat surface area at the top of the diamond; the table is usually the largest facet of the stone.
Crown
The upper part of a diamond, extending from the girdle to the table.
Girdle
The girdle sits between the crown and the pavilion; it defines the perimeter of the diamond. A medium thickness girdle is the optimum size. An extremely thin girdle can make the diamond more vulnerable to chipping. However, a thick girdle is also undesirable because it adds additional weight to the middle of the diamond. This can cause the diamond to look smaller than diamonds of similar weight.
Pavilion
The pavilion is the bottom portion of the diamond, the section extending from the girdle down to the culet. A pavilion that is too deep or too shallow can result in light escaping from the bottom or side of the stone. The desired performance of a diamond is to reflect the light out from the top of the stone.
Culet
A small facet at the bottom end of the gemstone, often ending in a tip or point. The preferred culet is not visible to the unaided eye.
Depth
The overall height of the diamond measured in millimetres, from the culet to the table of the diamond.
View By Category
Explore a selection of pieces from across the Pragnell range​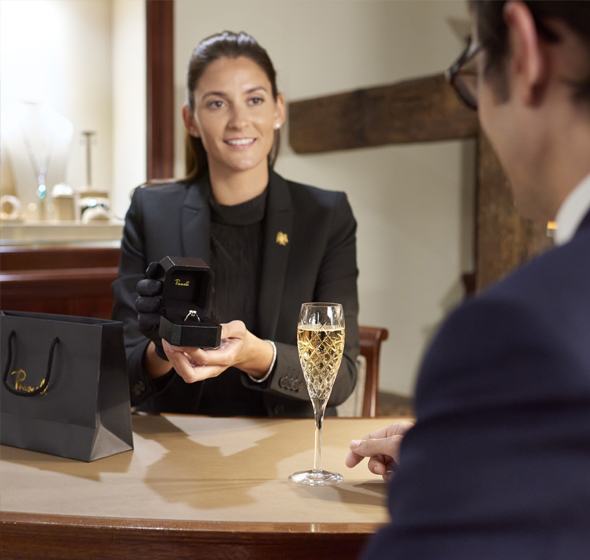 Make an Appointment
Our expert consultants are on hand to guide you through the process of choosing your eternity ring and answer any questions you may have, whether you book an appointment, or visit us to browse.

Visit one of our three showrooms and speak with one of our experts.

Alternatively, if you are unable to visit the showroom, you can book a virtual appointment. One of our experts will video call you to understand your requirements - you'll receive our usual high standard of service, all from the comfort of your own home.
You May Be Interested In