Eternity Ring Guide
An eternity ring is a piece of jewellery that symbolises everlasting love; as the saying goes, "diamonds are forever", which is why diamonds are traditionally used in eternity rings. However, they can also include other precious gemstones. Eternity rings are also referred to as eternity bands or infinity rings.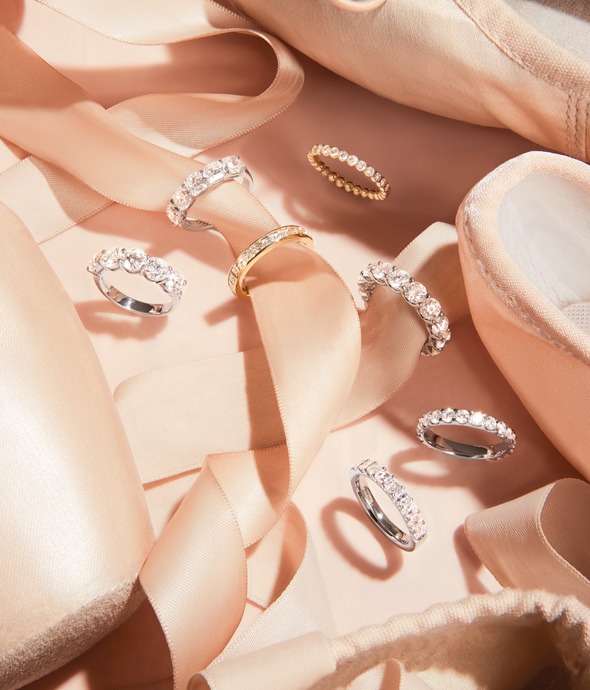 When Is an Eternity Ring Given?
Eternity rings are traditionally given to celebrate a milestone in a marriage, such as a wedding anniversary, or for the birth of a first child. They are also given for special occasions, such as birthdays, Christmas or Valentine's Day.
How is an Eternity Ring Worn?
When it comes to the order of how to wear rings, they can be worn in any arrangement that looks attractive to the wearer. However, the traditional order is the wedding ring first, then the engagement ring, followed by the eternity ring.

The wedding ring always sits closest to the heart, followed by the engagement ring. This is because the wearer may need to remove their engagement ring when carrying out daily activities, such as exercising, but will often still wear their wedding band.

The eternity ring sits on the ring finger of the left hand, next to the engagement ring. Often, the eternity ring is worn on the ring finger of the right hand in the daytime, instead of next to the engagement ring. This is so the wearer has something to wear on both hands.

Traditionally, the eternity ring is then moved back to the left hand during the evening. This is to allow for a cocktail ring on the right hand. The cocktail ring is worn on the right hand, so that it is visible when the wearer raises their glass.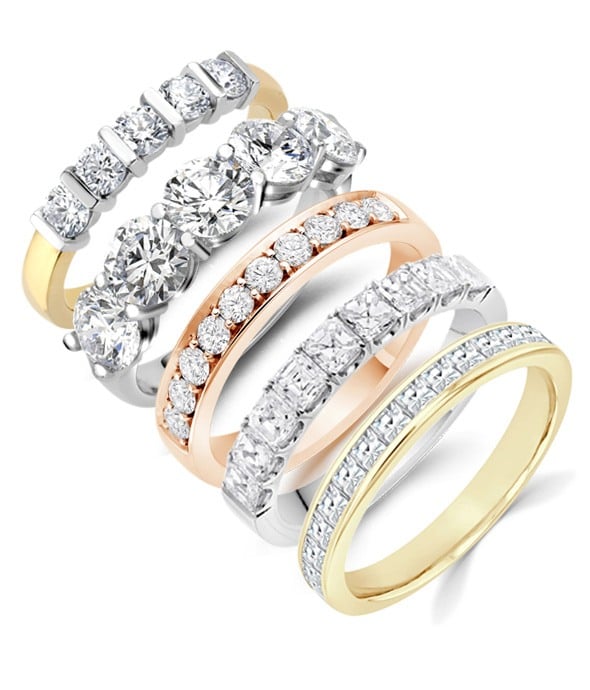 Choosing the Right Eternity Ring
When choosing an eternity ring, you'll need to consider what jewellery your partner already has. If the eternity ring will be worn next to an engagement or wedding ring, you need to decide if you want to match or contrast the style of their existing jewellery.

Popular styles of eternity ring include: full eternity, half eternity, five-stone, seven-stone, and gemstone eternity.

Full eternity rings are made of a precious metal and set with a complete loop of diamonds. A rubover or channel setting is a wise choice for a full eternity ring. This is because the diamonds would be better protected on the inside of your hand. Shop full eternity rings.

Half eternity rings are also very popular and contain diamonds set across the face of the ring, rather than a full loop. Shop half eternity rings.

Five-stone and seven-stone eternity rings have symbolic interpretations. Each stone in a five stone ring is said to represent a stage in a romantic relationship: friendship, courtship, dating, marriage, and children. A seven-stone ring symbolises everlasting love. Shop five-stone eternity rings.

Gemstone eternity rings combine a mix of diamonds and precious gemstones, such as rubies or emeralds. You could also consider including your partner's birthstone in the eternity ring.

Our expert showroom consultants are exceptionally knowledgeable and passionate about jewellery design and creation, they are on hand to offer any advice you might need.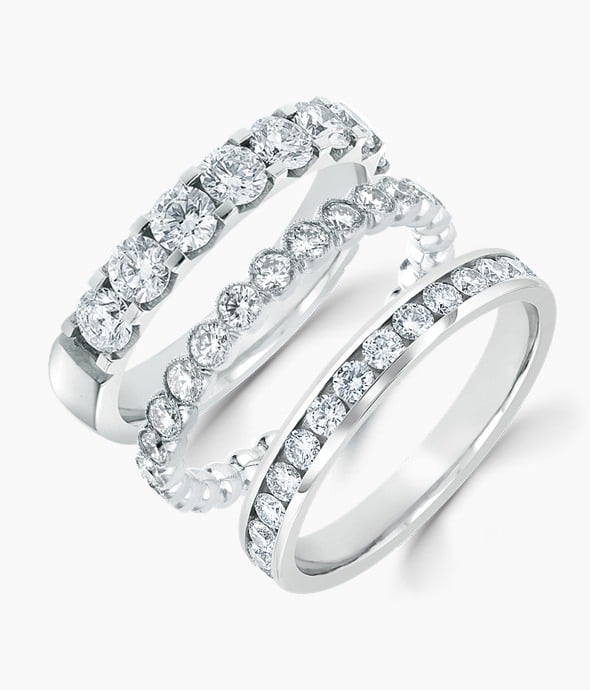 Eternity Ring Settings
There are multiple settings to choose from and these are three popular styles. Learn about each type to help you decide the best setting for your eternity ring.

Claw
In this type of setting, metal claws wrap around the top of each diamond slightly to hold it in place. Usually most suitable for round diamonds, as the claws allow the maximum amount of light to enter the diamond, creating a dazzling sparkle. A claw setting is suitable for a half, five or seven stone eternity ring.

Rub Over
This type of setting encircles the diamond with a thin metal rim that holds the stone in place. Bezel settings are perfect for those who have a more active lifestyle, as they are less likely to snag or be knocked loose.

Channel
This setting has no metal between the stones; instead, a channel to house the diamonds is formed down the centre of the ring, with metal either side to keep them in place. This means the diamonds are protected, making this the most secure setting.
Which Metal to Choose?
The colour of the metal you choose for your eternity ring is completely up to you; there's no right or wrong way to decide. It is based on your and your partner's personal tastes and preferences.

You'll need to consider whether you want to match the metal of their existing jewellery, or if you want a contrast with a different metal and how it will be worn. However, if the eternity ring will be worn next to a platinum ring, the eternity ring will also need to be made of platinum. This is because platinum is the strongest metal, and if you were to put a gold ring next to a platinum ring, it would eventually wear away with daily use. Our expert consultants can advise you and give you more information about choosing the right metal.

Our diamond wedding bands are handcrafted in platinum, yellow, white and rose gold by our master craftspeople.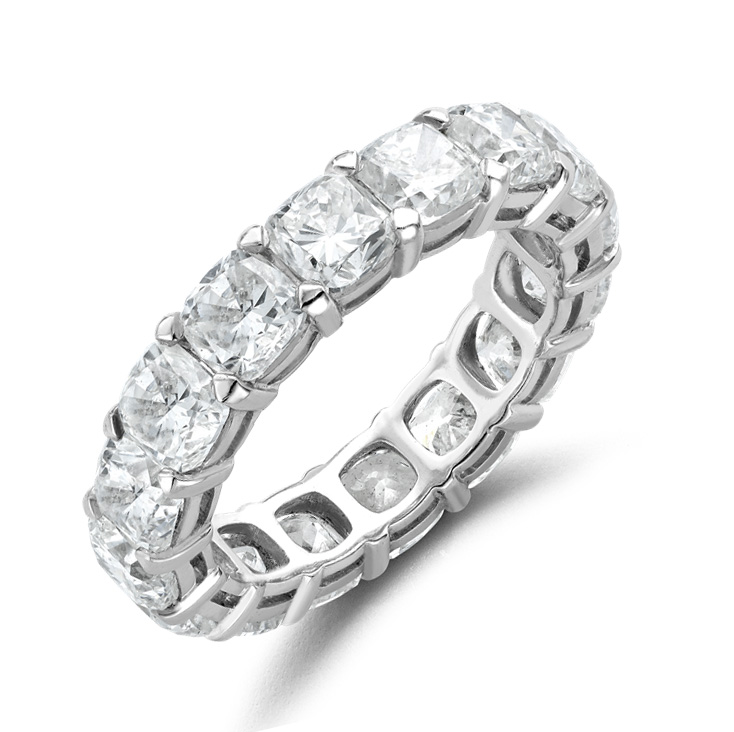 Platinum Eternity Rings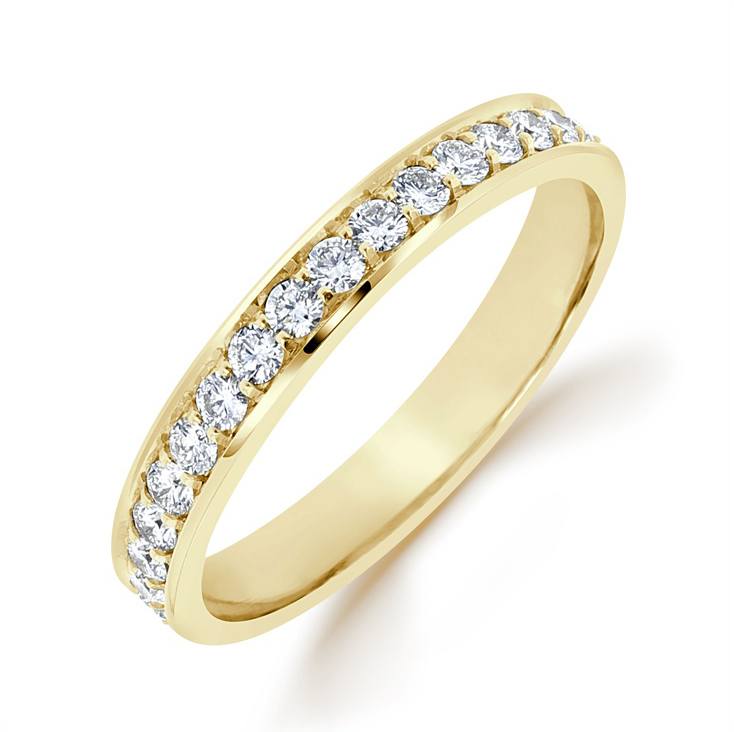 Yellow Gold Eternity Rings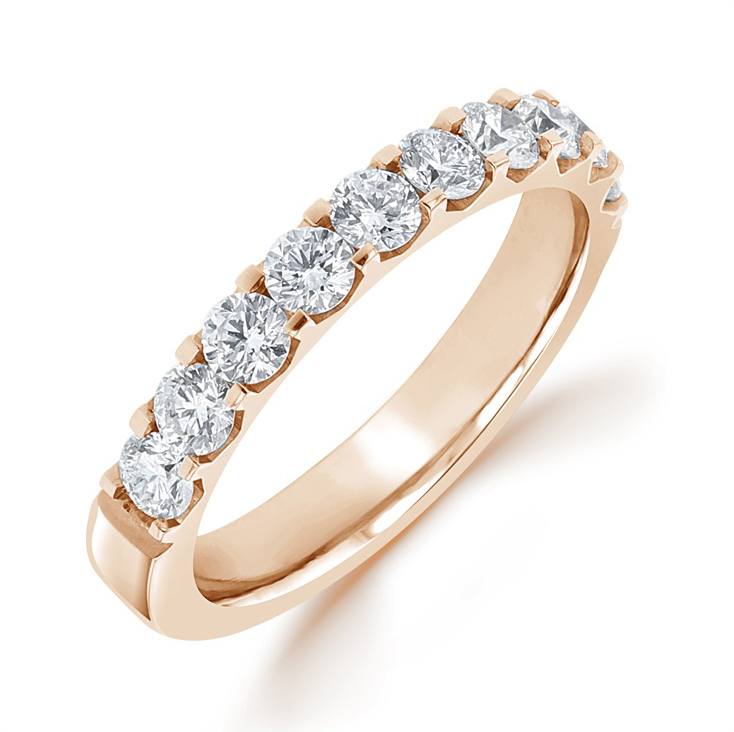 Rose Gold Eternity Rings
Choosing the Right Ring Size
If the eternity ring will be worn on the left finger, you can easily determine the correct size by using your partner's existing wedding ring or engagement ring.

If you don't know the ring size and want to keep your gift a secret, place their ring on a piece of paper and carefully draw a circle around the inner circumference. Bring this into the showroom, so that we can determine which size would suit best.

If the ring is not a surprise, please request one of our complimentary ring sizing tools, which we can post out to you. This will ensure you can get an accurate size of the finger the ring will be worn on.

Our expert consultants are on hand if you wish to visit the showroom to take a ring size, or they can assist over a video call.

Do not worry if you do not know your partner's ring size. We offer complimentary resizing on all our eternity rings, so you can be sure of a perfect fit. Please note, complimentary ring sizing is on the first sizing only.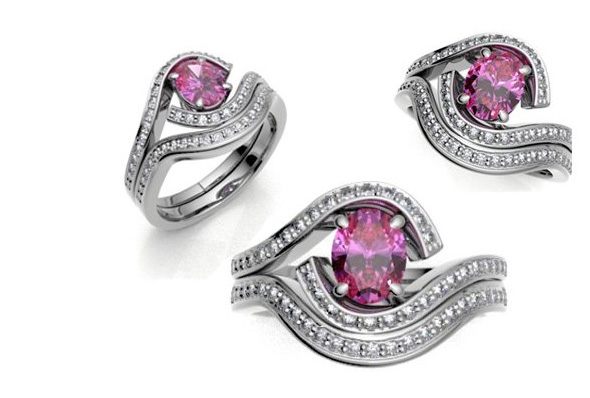 Bespoke Eternity Rings
For a truly one-of-a-kind experience, design and create your own unique eternity ring, incorporating your chosen gemstones. Your personal consultant will work with you to design your ring; your bespoke commission will then be handmade in our British workshop by our expert master craftspeople.

Make an Appointment
Our expert consultants are on hand to guide you through the process of choosing your eternity ring and answer any questions you may have, whether you book an appointment, or visit us to browse.

Visit one of our three showrooms and speak with one of our experts.

Alternatively, if you are unable to visit the showroom, you can book a virtual appointment. One of our experts will video call you to understand your requirements - you'll receive our usual high standard of service, all from the comfort of your own home.
Visit Pragnell
From Market Street to Mayfair you can be sure of a warm welcome at any of our showrooms across Great Britain.