SORRY NO ITEMS WERE FOUND.
Please refine your search or try another search term.
Select a price range to suit your budget
SORRY NO ITEMS WERE FOUND.
Please refine the selected filters.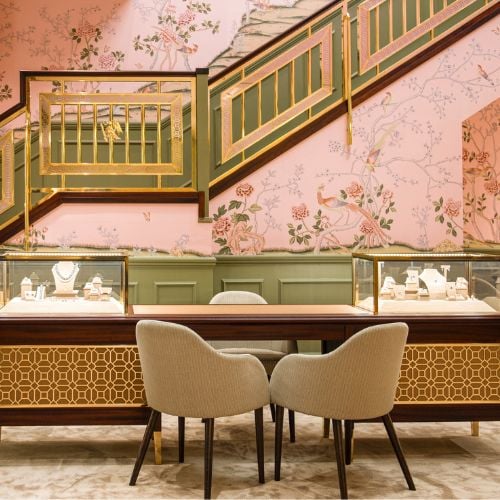 BOOK AN APPOINTMENT
Whether you book an appointment to visit us in person or opt for a virtual consultation from the comfort of your own home, you'll receive the same high standard of service and individual care and attention from our expertly trained consultants who can share designs, discuss gemstone options and even model pieces.
Frequently Asked Questions
Below are the answers to our most commonly asked questions. Should you want to find out more please feel free to Contact Us us and begin your Pragnell experience.
There is no set rule as to how much you should spend on a wedding ring in comparison to an engagement ring, but it is common for the engagement ring to be more extravagant and intricate than a wedding ring, meaning the engagement ring is likely to be more expensive.
It is recommended that you buy your wedding rings at least 3 months before the wedding. This gives you enough time to choose the right design for you and make and alterations before the big day if needed.
It's not an absolute necessity that all bridal jewellery should match. Find pieces that are different but complement each other and your dress will look just as good.
Tradition dictates that each person will buy their partner's ring.
There is no set amount or rule when it comes to buying a men's wedding band. Prices will depend on the style and materials used but there is sure to be a ring out there to fit any style and budget.
No, they do not have to match. Some couples like to match to symbolise their unity, but it is by no means required.
Absolutely! Of course, it is a matter of preference and taste but diamond wedding bands for men are becoming more popular.
Engagement Listing Page