SORRY NO ITEMS WERE FOUND.
Please refine your search or try another search term.
Select a price range to suit your budget
SORRY NO ITEMS WERE FOUND.
Please refine the selected filters.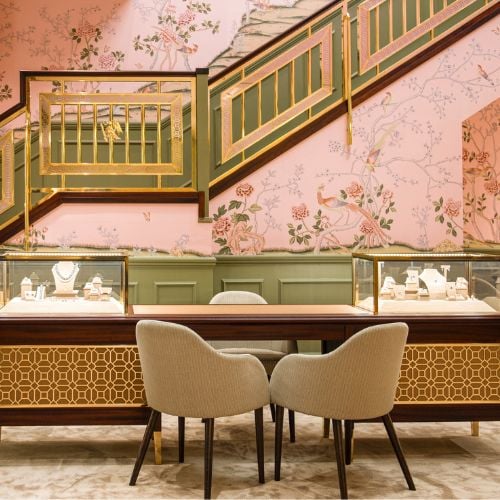 BOOK AN APPOINTMENT
Whether you book an appointment to visit us in person or opt for a virtual consultation from the comfort of your own home, you'll receive the same high standard of service and individual care and attention from our expertly trained consultants who can share designs, discuss gemstone options and even model pieces.
About IWC Schaffhausen
The International Watch Company (IWC) are known for their striking designs and quality. They have been committed to their tradition of watchmaking excellence for more than 150 years, making them a favourite of many watch enthusiasts. In 1868, Florentine Ariosto Jones, a Boston born watchmaker, went to Schaffhausen, Switzerland, to lay the foundations of the International Watch Company, often referred to now as IWC Schaffhausen.

In the early 1900s, IWC launched two watch ranges which are still in production today. The IWC Portugieser celebrated the Portuguese importers who ordered large quantities of IWC Calibres and the "Spezialuhr für Flieger" is now recognised the world over as the IWC Pilot collection.

Later, in 1948, IWC responded to a tender from the British Government and developed a service watch for pilots in the Royal Airforce. Honouring their past links to the RAF and one of the most famous fighter planes in history, in 2003, IWC launched the Spitfire Chronograph. In August 2019, a carefully restored Spitfire, with a one of a kind silver-chrome finish, took off from London. The "Silver Spitfire" took part in a 43,000 km journey around the world, stopping at 30 countries along the way. The Pilot's Watch Timezoner Spitfire Edition, The Longest Flight, is dedicated to this incredible endeavour. It boasts a patented mechanism with an entirely in-house IWC automatic movement.

Modern IWC watches undergo rigorous development and testing, using advanced electric discharge machines and computer-aided design. IWC parts can be made with tolerances as little as 0.001 millimetres - one hundredth the width of a human hair. Each IWC development watch is subjected to a series of tests, one of which involves the watch being shaken 264,000 times in a box, at forces of up to 500G. This applies to all of the brand's watches, including the Pilot, Portofino, Portugeiser and Aquatimer collections.
Watch Listing Page