SORRY NO ITEMS WERE FOUND.
Please refine your search or try another search term.
Select a price range to suit your budget
SORRY NO ITEMS WERE FOUND.
Please refine the selected filters.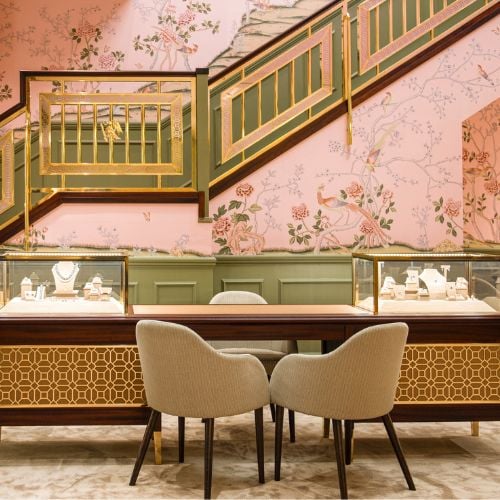 BOOK AN APPOINTMENT
Whether you book an appointment to visit us in person or opt for a virtual consultation from the comfort of your own home, you'll receive the same high standard of service and individual care and attention from our expertly trained consultants who can share designs, discuss gemstone options and even model pieces.
About Tudor Pelagos Watches
A symbol of adventure, the Tudor Pelagos is one of the most complete traditional diver's watches available today. Inspired by the early Tudor diver's watches, the Pelagos of today provides high performance born from a rich watchmaking heritage. 

Powered by Tudor's own in-house movement ensuring reliability and precision, each timepiece comes with a power reserve of approximately 70 hours. Models in the collection are waterproof up to 500 metres, the Tudor Pelagos is a true modern thoroughbred of the watchmaking world, providing the wearer with the confidence to take on any challenge.

Tudor Pelagos models include:

Tudor Pelagos (Standard): The standard Tudor Pelagos is the original model in the collection. It features a 42mm titanium case, which is both lightweight and corrosion-resistant. The watch is equipped with a helium escape valve, making it suitable for saturation diving. The Pelagos typically features a matte black dial and a ceramic rotating bezel. It has a depth rating of 500 metres (1,640 feet) and is designed for professional divers.

Tudor Pelagos LHD (Left-Handed): The Tudor Pelagos LHD is a special edition designed for left-handed individuals. It retains many of the features of the standard Pelagos but has a unique crown placement on the left side of the case. This design allows left-handed wearers to comfortably operate the watch's crown with their left hand.

Tudor Pelagos FXD (Fixed Strap Bars): The Pelagos FXD maintains the same dimensions as its predecessor, featuring a 42mm brushed titanium case. However, it boasts a slimmer profile, reducing its thickness from 14.3mm in the original Pelagos to just 12.75mm in the Pelagos FXD. The acronym "FXD" represents "FiXeD strap bars," a logical feature tailored for a NATO-style watch like this one. The traditional spring bars can be considered the most vulnerable element – if one breaks, your strap becomes detached.

Tudor Pelagos 39: The Tudor Pelagos 39, as the name suggests, features a 39mm titanium case, making it more compact and wearable for individuals who prefer smaller watches. Like the standard Pelagos, it is constructed from lightweight and corrosion-resistant titanium, making it suitable for diving and daily wear. The Tudor Pelagos 39 has a depth rating of 200m (656 feet). It often features a matte black dial and a ceramic rotating bezel, similar to its larger counterparts. The Pelagos 39 is designed to cater to those who appreciate the Pelagos design and functionality but prefer a more modest case size.
Watch Listing Page