Santa Maria Aquamarine
Like a refreshing swim on a hot day, aquamarine is a cool and watery shade of blue named after the Latin phrase meaning 'water of the sea'.
Aquamarines are one of the most universally admired gemstones: flattering to all skin tones, their greenish-blue hue is reminiscent of azure waters. It was once believed to calm waters and keep sailors safe at sea. This enticing gem is famed for its high transparency and vitreous lustre. The French art critic, Charles Blanc, was quoted as saying that the aquamarine has "the glassy tint of the waves of the sea".
Many highly valuable and sought after examples have been found at the Santa Maria de Itabira mine in Brazil. Legend has it that in the early 1900s, Brazilian miners discovered a 200kg aquamarine, so clear that you could read newsprint through it.
Today, the Santa Maria mine has been exhausted. However, on very, very rare occasions gems mined in Africa have shared the same exceptional colour and clarity exhibited in the original gems and are named Santa Maria Aquamarines in their honour.
Aquamarines are a member of the beryl family: the presence of different levels of iron in the stone's chemical make-up results in colours that range from pale powder blue through to duck-egg and even greyish-green or teal. These distinct varieties of aquamarine carry important differences in terms of clarity, quality and value.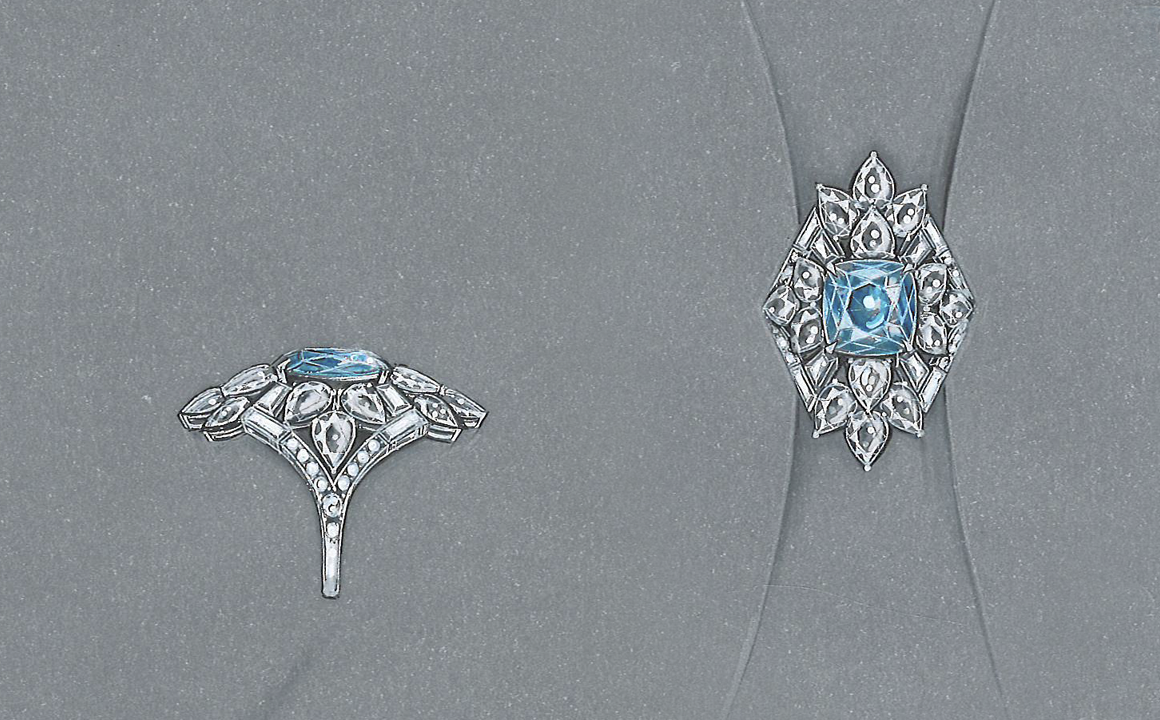 High quality, original Santa Maria aquamarines tended to be cut and polished into large, step cut gems, all the better to showcase their colour, clarity and unmistakable beauty. Whether set into a majestic cocktail ring, or mounted amongst diamonds within an Art Deco pendant, the allure of a Santa Maria aquamarine is unsurpassed and they are sought after by connoisseurs and collectors alike.
In 1936, the government of Brazil gave First Lady Eleanor Roosevelt a dark blue rectangular step cut aquamarine that weighed 1,298 carats. It was the larger of two stones faceted from a piece of aquamarine rough sourced in the Minas Gerais region of Brazil. It is claimed to be the largest faceted aquamarine in the world.
Queen Elizabeth II was also gifted Brazilian aquamarine in 1953 as a gift from the people of Brazil. The collection of aquamarines has evolved and been added to over years and they now sit in a tiara which was commissioned by the Queen herself. The late Princess Diana was also an admirer of Brazilian aquamarine, choosing to wear a large emerald cut cocktail ring as a replacement for her engagement ring. It was most recently worn by the Duchess of Sussex at her wedding to Prince Harry.
Visit Pragnell
From Market Street to Mayfair you can be sure of warm welcome at any of our showrooms across Britain.