Bespoke Jewellery
Design and create a unique piece of jewellery, custom-made just for you. We'll bring your dream to life: the only limit is your imagination. Fine jewellery is an expression of individuality. It holds memories and emotions: a moment in time, captured in precious materials. We are experts in creating one-of-a-kind jewels, custom-made to suit each client's style and personality.
Whatever your wishes and budget, we can create a piece of jewellery as unique as the person and moment it represents: designed by you and handmade by us. Whether you visit us in person or use our virtual consultant service, we will guide you through every step of the process. The journey begins when you get in touch, either in store or online, to share your ideas and inspirations. You'll meet your personal consultant, who will create sketches to bring these ideas to life. We have a huge archive of antique and contemporary designs to inspire you, or you may wish to share your own references. During this initial complimentary consultation, we will ascertain the budget and your specific requirements, with no obligation to buy.

Next, you'll choose the gemstones. Our expert gemmologists can source any gem you can imagine. We'll explain the technical details and present different options for you to examine in person or via video call. Our knowledgeable consultants are trained gemmologists and goldsmiths themselves, so will offer advice and recommendations - but the final decision is yours. Once you've selected your precious gemstones, we'll create a detailed, 360-degree CAD (Computer Aided Design) rendering that brings your design to life in 3D. You can make as many changes as you like; when it's perfect, we'll confirm the final quote.

Your bespoke commission will then be handmade in our British workshop by our expert master craftspeople, using sophisticated modern processes blended with traditional goldsmithing techniques. It will be stamped with the Pragnell Hallmark, a guarantee that it meets the highest quality standards. When it's ready, we will invite you into the showroom for a glass of champagne or organise a celebratory video call to reveal your exquisite, unique jewel.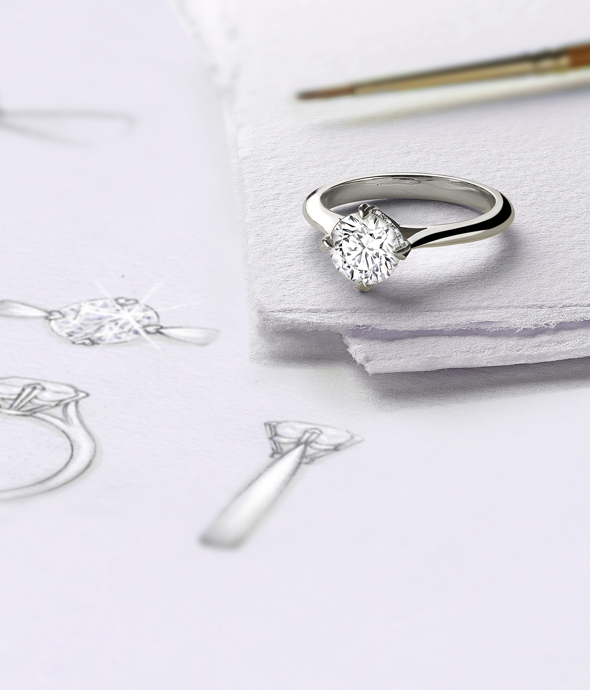 Bespoke Engagement Rings
Every love story is unique. Why not capture this special moment in your lives with a bespoke engagement ring, designed and handcrafted just for you?

Whatever your personal style and budget, we can create the engagement ring of your dreams. Whether you design it together with your partner, or alone as a surprise, we can source any gemstone and create any design you can imagine. If you're unsure where to start, we have a huge archive of contemporary and antique engagement ring styles dating back to 1815, including details of Queen Elizabeth II's diamond engagment ring.

Some clients like to customise an existing engagement ring design with personal details that make it extra meaningful, while others will dream up a never-before-seen style. Our team of in-house designers and craftspeople relish the challenge of bringing every bespoke ring to life. The result is a one-of-a-kind engagement ring that symbolises your love: a jewel, and a story, that will be treasured for generations to come.
Jewellery Redesign
Fine gemstones deserve to be worn and enjoyed. We are experts in redesigning antique and vintage pieces, giving unworn jewels a new lease of life.

We have decades of experience in repurposing antiques into wearable and stylish modern designs. Many of our clients turn to us to breathe new life into their unworn jewels, whether a family heirloom that doesn't suit their style, or a vintage piece that needs repair.

An antique brooch might become a one-of-a-kind cocktail ring, a tennis bracelet might be transformed into earrings, or a simple diamond solitaire might be given a modern makeover. The options are endless. Whatever the challenge, we will find a solution that works for both jewel and wearer. You may already have an idea for the redesign, or you may be considering a change. Our team of in-house antique jewellery specialists will examine your pieces and offer advice on how best to enhance their beauty, with no obligation. We are experts in caring for and restyling antiques, so you can rest assured that your precious jewels are in safe hands.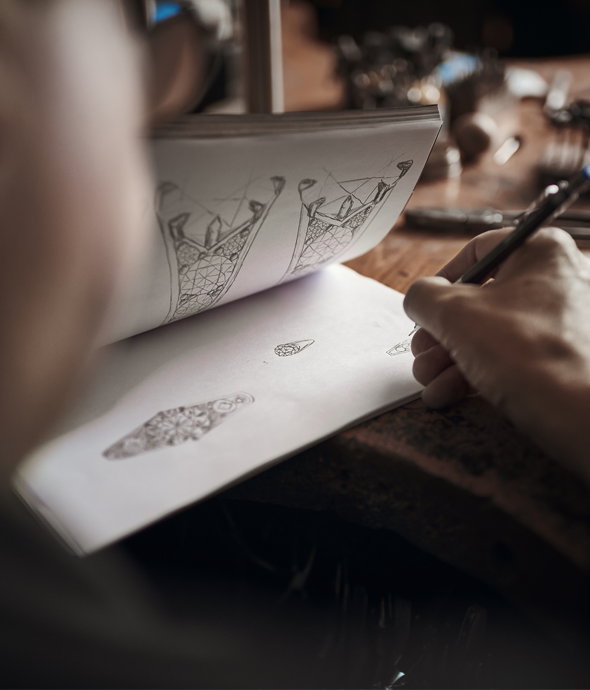 You May Be Interested In