SORRY NO ITEMS WERE FOUND.
Please refine your search or try another search term.
Select a price range to suit your budget
SORRY NO ITEMS WERE FOUND.
Please refine the selected filters.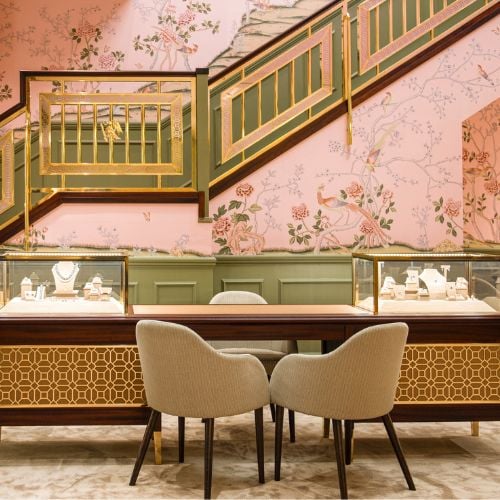 BOOK AN APPOINTMENT
Whether you book an appointment to visit us in person or opt for a virtual consultation from the comfort of your own home, you'll receive the same high standard of service and individual care and attention from our expertly trained consultants who can share designs, discuss gemstone options and even model pieces.
Frequently Asked Questions
Below are the answers to our most commonly asked questions. Should you want to find out more please feel free to Contact Us us and begin your Pragnell experience.
In 1929, Umberto Cazzola established his first goldsmith's workshop and passed on his inventive, pioneering approach to his son Odino. The company specialised in making watch straps from gold and other metals, becoming suppliers to the most noteworthy watchmaking brands in Switzerland.

When the third generation joined the firm, Fope used its huge amount of know-how to design its own gold jewellery collections, such as the Novecento mesh, which is now shaped into various designs. This signature style of the brand made it successful not just in Italy, but also around the globe. The fourth generation of the family has enabled FOPE to have a lasting presence in the international jewellery market and be seen as a representation of the sophistication and quality of Italian craftsmanship.
FOPE jewellery is unique in its combination of traditional Italian craftsmanship with modern styling. All FOPE pieces are crafted with the highest quality materials and are designed to be timeless and versatile. The brand's signature flex-it chain is its most iconic feature, featuring a patented flexible link system that allows for a flexible fit and easy wearability.
Yes, FOPE jewellery is designed to be worn every day and is made with quality materials that are suitable for everyday wear.
Jewellery Listing Page