SORRY NO ITEMS WERE FOUND.
Please refine your search or try another search term.
Select a price range to suit your budget
SORRY NO ITEMS WERE FOUND.
Please refine the selected filters.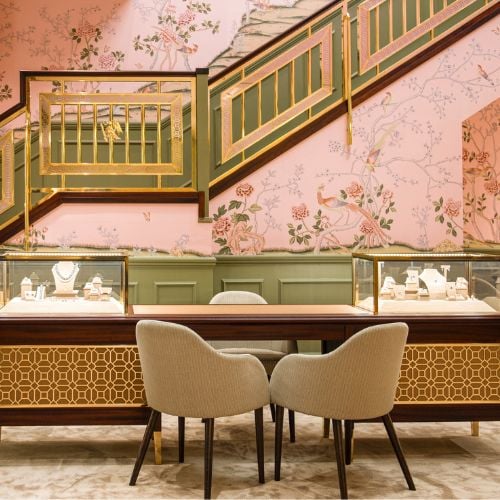 BOOK AN APPOINTMENT
Whether you book an appointment to visit us in person or opt for a virtual consultation from the comfort of your own home, you'll receive the same high standard of service and individual care and attention from our expertly trained consultants who can share designs, discuss gemstone options and even model pieces.
About Tiffany & Co. Antique Jewellery
Founded in 1837, Tiffany & Co is the most famous and well known American jeweller. Reaching huge acclaim by the time of the "Gilded Age" with a reputation for high quality diamonds, many of America's most wealthy families flocked to purchase rare and exquisite pieces from the "palace of jewels". Charles Tiffany significantly bolstered the reputation of the company by purchasing one third of the monumental French Crown Jewels when they were auctioned in 1887, after the fall of Emperor Napoleon II and his Empress Eugenie. The name was brought to a more modern audience when Tiffany & Co created a number of spectacular Jazz Age jewels for the 2013 motion picture The Great Gatsby, which were worn onscreen by Carey Mulligan.

Still hugely important today, the brand produce everything from high jewellery to silverware and crystal. Pragnell carefully curate a unique selection of antique and vintage Tiffany jewellery, which range from Art Deco diamond line bracelets to Retro Elsa Peretti designs.
Antique Listing Page