The Pragnell Difference
An engagement is a time for celebration. Emotions run high, and excitement is often mixed with nerves – especially when it comes to choosing the right ring. Pragnell is here to help. A Pragnell ring is a guarantee of exceptional craftsmanship, top-quality diamonds and unrivalled customer service. This is the Pragnell difference.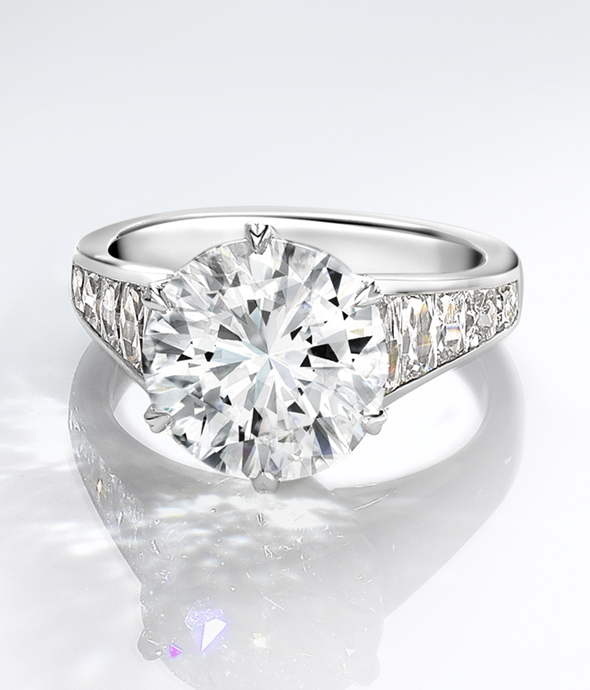 Things to consider
Choosing who to spend your life with is a momentous decision - and the engagement ring also merits considerable thought. As a symbol of love that will be passed down through generations, it is important that you make the right choice, from a jeweller you trust.

Pragnell's engagement rings are handcrafted in Great Britain, using diamonds hand-selected for their quality and beauty. We offer a wide array of diamond rings to suit all styles and budgets, from perfectly formed solitaires of half a carat to once-in-a-lifetime designs from our Masterpiece collection, and a vast selection of antique pieces.

Whatever the budget, each and every customer will receive the care and attention that has seen Pragnell become the jeweller of choice for over 65 years.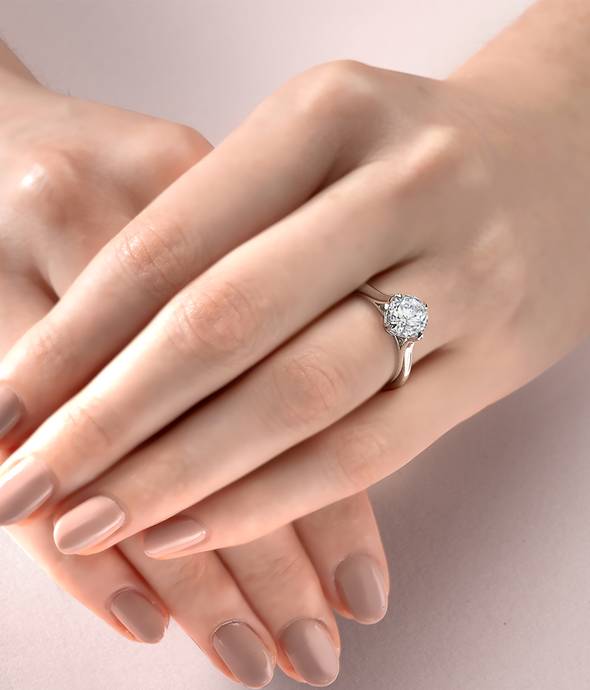 We will take you through the process
With any important purchase, knowledge is key, and there is a wealth of information about choosing the right diamond. But whether you are already well acquainted with the '4 Cs, or just starting out, there is no substitute for a face-to-face conversation with an expert.

Pragnell's showroom staff have decades of experience in helping couples find their perfect ring, and will make the process as simple and enjoyable as possible. Whether you are browsing alone or as a couple, and whether it is your first visit or your twenty-first, we would be delighted to welcome you into one of our showrooms and offer you a glass of champagne – an engagement is cause for celebration, after all! We will listen to your needs, offer our expertise and help you select the finest diamond for your budget.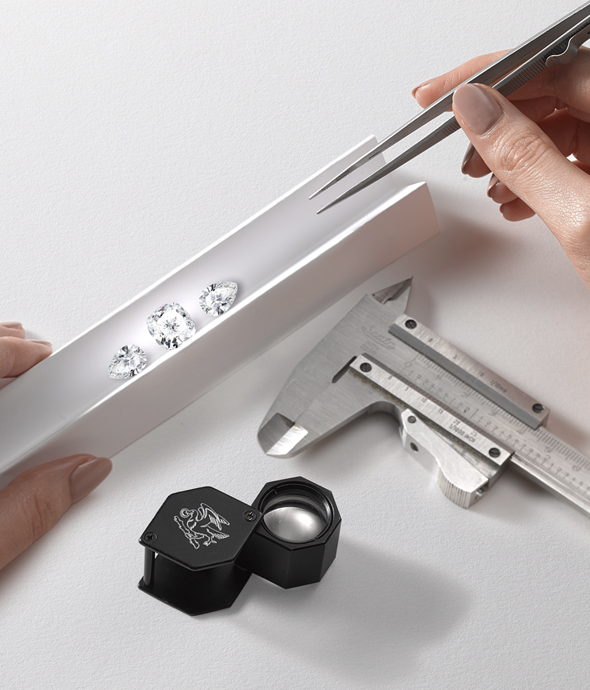 Our expertise
Pragnell's approachable showroom staff have a wealth of expertise. Many of them are trained gemmologists or goldsmiths, so are expertly placed to talk you through our extensive array of engagement rings.

As well as being certified by the world's leading diamond laboratories, each Pragnell diamond is selected by our in-house gemmologists for its quality and beauty, so you can rest assured that it is the finest of its type – as well as being responsibly sourced and conflict-free. These diamonds are set into handcrafted rings, made in Great Britain by Pragnell's highly skilled master craftspeople. Crafting each ring by hand, in house, means we can ensure they meet our strict quality standards. Each one is finished with an impeccable attention to detail.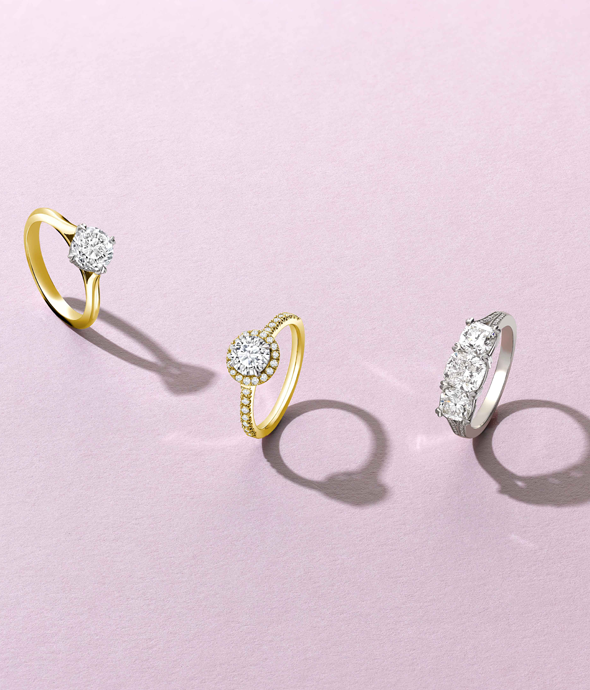 Choosing the right ring
'How will I know what she will like?' With so many options on offer, choosing the right ring can seem a tricky task. Our showroom staff are on hand to help you consider her personal style, her likes and dislikes, as well as any lifestyle factors that might affect the ring that suits her best.

As well as explaining the features and benefits of each ring style, we will ask questions and draw on your reactions to guide you towards the perfect choice, whatever your budget. If you cannot make up your mind, you are welcome to come back and browse as many times as you like.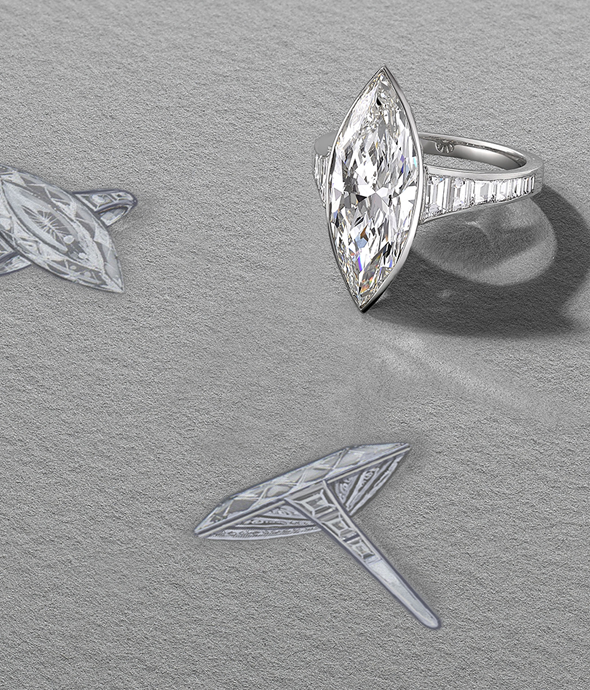 Bespoke ring design
If you cannot find what you are looking for in our collection of new and antique rings, we will work with you to create something unique. Using the rings in our showroom as a starting point, our staff will help generate ideas for your bespoke commission. These ideas will then become a 3D digital design, which you are free to adapt and adjust without any obligation to buy.

Once you are happy with the design, it is time to choose your diamond – once again, our showroom staff will inform and advise. Finally, our skilled craftspeople will handcraft the ring to your exact specifications, resulting in an everlasting symbol of love that is as unique as you are.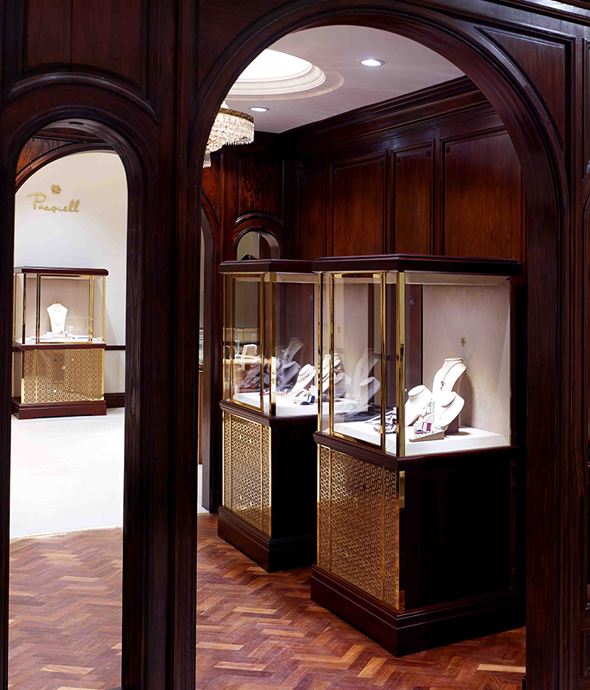 Our Showrooms
With showrooms in Mayfair, Stratford-upon-Avon and Leicestershire, Pragnell has built a loyal clientele of local families and international visitors. Each showroom stocks a wide array of new and antique engagement rings, and our staff will be happy to welcome you, whether you want to spend five minutes or five hours.

Book an appointment with one of our showroom staff today to experience the Pragnell difference for yourself.
You May Be Interested In