Royal Gift Presented to HRH the Prince of Wales to Mark 400th Anniversary
In his role as patron of the Royal Shakespeare Company, the Prince of Wales has been a tireless supporter and advocate of all things Shakespearean as well as a frequent audience member at performances by the RSC.

As part of the 400th anniversary celebrations he took to the stage of the RSC in Stratford-upon-Avon and declaimed one of Shakespeare's most famous lines – "to be or not to be, that is the question" – alongside the likes of Benedict Cumberbatch, David Tennant, Sir Ian McKellan, Dame Judi Dench, Rory Kinnear, Paapa Essiedu, Tim Minchin and Harriet Walter who were participating in a skit about how best to declaim the celebrated dialogue from Hamlet.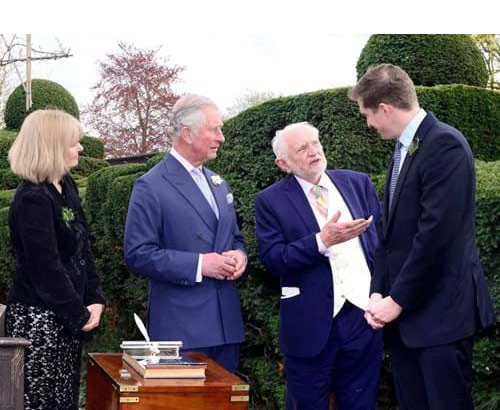 To commemorate his invaluable support over the years, His Royal Highness was presented with a remarkable sculpture of an inkwell and scroll created by George Pragnell jewellers. The gift was presented by Professor Stanley Wells, Honorary President of the Shakespeare Birthplace Trust on behalf of the Trust, the RSC, the Shakespeare Institute and the town of Stratford-upon-Avon to thank the Prince for his involvement in this historic anniversary.

The sculpture stands on a block of English oak engraved with the famous line, "All the world's a stage", and is adorned with a representation of an inkwell depicting a likeness of Shakespeare. The sculpture also incorporates a piece of cedar wood that originates from a tree which stood in the garden of Shakespeare's birthplace. All of the winners of the Shakespeare Birthday Award – an award founded by the Pragnell family – are engraved on the silver scroll.
The quill in pierced and etched sterling silver is artfully positioned to suggest it has finished lettering this year's winner of the award, Sir Trevor Nunn. He joins former recipients such as Dame Judi Dench, Sir Kenneth Branagh and Sir Patrick Stewart.

The quill was designed and created by Philip Antrobus, the Bond Street jewellery company owned by Pragnell. The design was found in the workshops when Pragnell acquired the company and is thought to date from the 1920s.

Prince of Wales Royal Gift"We feel honoured to have created this gift for His Royal Highness. It is a small tribute to The Prince's tireless work advocating our Shakespearean heritage, and I know I speak for all of us who love Shakespeare in Stratford when I say how grateful we are for his valuable time and support in this very special year," said Charlie Pragnell. The sculpture represents the third important contribution that Pragnell have made to the modern artefacts surrounding Shakespeare's anniversary, including an extremely rare, newly commissioned, Patek Philippe dome table clock, and an historically significant re-edition of an original 20ct gold signet ring believed to have been Shakespeare's.
Visit Pragnell
From Market Street to Mayfair you can be sure of a warm welcome at any of our showrooms across Great Britain.