Patek Philippe Watch Created for Pragnell Breaks World Record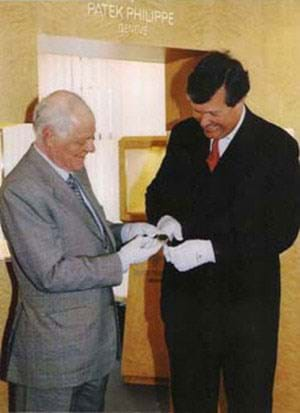 In 2004, Patek Philippe manufactured a limited series of five pieces to commemorate the 50th Anniversary of Pragnell. Reference 5079J-010 is a large 18ct yellow gold self-winding minute repeating wristwatch with "Cathedral gongs", black dial and gold Breguet numerals.

At a recent auction at Christie's, Hong Kong, one of these Pragnell Patek Philippe Minute Repeaters was sold for an impressive total of $575,340 (approx £390,000) which was double the estimated sum. The original was sold by Pragnell in 2004 for £162,000.

Simon de Burton of QP describes the Pragnell Patek Philippe Minute Repeater as being "among the most attractive of all modern Patek Philippe watches".

It is one of the very few known limited series minute repeaters and therefore an extremely rare timepiece.
Visit Pragnell
From Market Street to Mayfair you can be sure of a warm welcome at any of our showrooms across Great Britain.