Olympic Torch Relay - West Midlands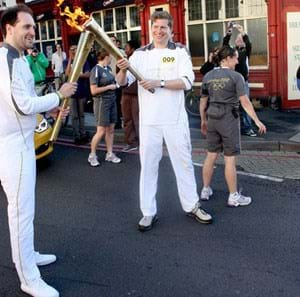 On day 44 of the Olympic Torch Relay as the torch enters the Midlands Charlie Pragnell, managing director and grandson of the founder of George Pragnell the Stratford-upon-Avon jewellers, was privileged to run with the torch through Birmingham.

Nominated by Omega, the official timekeeper for the Olympic Games, the BBC wrote, "Charlie taking an arms out wide posture giving a thumbs up and a big wave to the cheering crowds supporting him."

An early Sunday morning start saw Charlie Pragnell heading towards the jeweller's home town of Stratford-upon-Avon. Crowds lined the streets to watch and cheer on as Charlie ran with the torch before passing it on to the next bearer.
Visit Pragnell
From Market Street to Mayfair you can be sure of a warm welcome at any of our showrooms across Great Britain.