SORRY NO ITEMS WERE FOUND.
Please refine your search or try another search term.
Select a price range to suit your budget
SORRY NO ITEMS WERE FOUND.
Please refine the selected filters.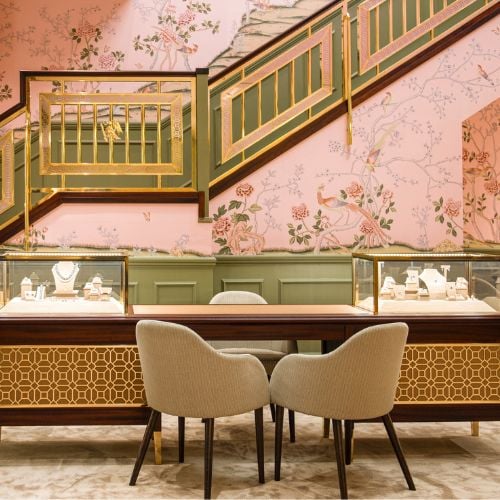 BOOK AN APPOINTMENT
Whether you book an appointment to visit us in person or opt for a virtual consultation from the comfort of your own home, you'll receive the same high standard of service and individual care and attention from our expertly trained consultants who can share designs, discuss gemstone options and even model pieces.
Omega Watches
First established in 1848 by watchmaker Louis Brandt, Omega was born from a modest factory in the Swiss village of La Chaux-de-Fonds. Brandt's incessant search for accuracy ensured his reputation soon spread across Europe as one of the world's premier watchmakers. It was not until 1894 following Brandt's death and the passing of the torch to his two sons that the Omega name was born and one of Omega's most celebrated pieces – the 19-ligne Calibre was created. The brothers crowned their new achievement "Omega", a name that has stuck to this day.

Due to the company's standard-setting for accuracy and precision, Omega has a deep-rooted commitment to sports timekeeping which can be traced back to 1905. The start of an Olympic legacy began with the 1932 Olympics where Omega were the first timekeepers of the entire Olympic games. A legacy that remains to this day.

1948 witnessed the birth of an icon, the Omega Seamaster. Marking the brand's centenary year, the Seamaster was built to withstand any challenge at any altitude or depth, a true conqueror of the sea and sky. The Seamaster has become an enduring symbol of Omega's watchmaking prowess and pursuit of excellence.

The 1950s and 1960s saw the birth of 3 Professional legends – The Speedmaster, the Seamaster 300 and the Railmaster. The Speedmaster was destined for a future of pioneering space exploration after being qualified by NASA as the only watch for all manned space missions and extravehicular activity. The Speedmaster became known simply as the 'Moonwatch' following the successful moon landing mission of Apollo 11 in 1969. The Seamaster 300 ushered in a new era of underwater discovery whist the Railmaster became a symbol of earth-bound precision becoming Omega's first watch to resist the magnetism of more than 1000 gauss.

Omega's reputation for accuracy and reliability helped forge remarkable partnerships that have lasted to this day. No other brand can claim the honours of being the Olympic timekeeper, flight approved by NASA and the watch of choice of the world's most renowned Secret Agent.
Watch Listing Page