Shakespeare Birthday Luncheon
We are delighted to announce that the annual Shakespeare Birthday Luncheon in Stratford-upon-Avon, will be taking place this year on Saturday, April 23rd 2022.

Hosted by actor and presenter Alexander Armstrong, attendees will enjoy a three-course luncheon, accompanied by fine wine and the event will feature performances from the Royal Shakespeare Company, a newly commissioned spoken word piece, along with special guests.

The Pragnell Shakespeare Birthday Award, which will be given at the luncheon, celebrates individuals who have significantly furthered society's understanding, appreciation, and enjoyment of the Bard's work. The illustrious roster of winners includes Sir Ian McKellen, Dame Judi Dench and Sir Kenneth Branagh.

As long-standing supporters of the annual Shakespeare Birthday Celebrations, we are thrilled to be taking on the honour of overseeing the organisation of Shakespeare's 458th Birthday Lunch, to be held on Saturday 23rd April in the grounds of the Royal Shakespeare Company.

General release tickets are priced at £150 per person and will go on sale via the Royal Shakespeare Company website and Box Office: 01789 331111 from Wednesday February 23rd 2022.

In the meantime, should you have any further questions please do not hesitate to get in touch: [email protected]

We very much hope you can join us to celebrate Shakespeare's 458th birthday, it promises to be a very special day.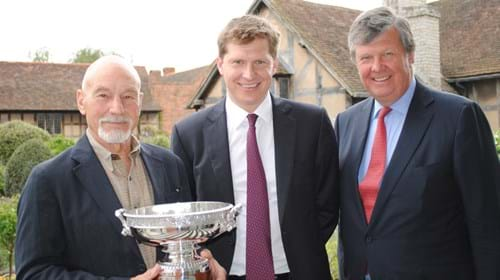 Pragnell Shakespeare Award winner Sir Patrick Stewart with Charlie and Jeremy Pragnell
The luncheon is a highlight of the celebrations and we are proud to be part of this. To help give the event the significance it deserves, we, along with some other local supporters, will be subsidising the production of the event. Collectively, we are doing so in memory of William Shakespeare, for the good of the Shakespeare related organisations, The Shakespeare Institute, the RSC, the Birthplace Trust, for the good of the town itself, and for the UK as a whole.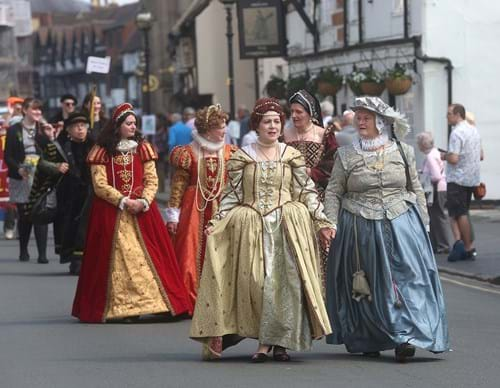 Celebrations taking place in the town centre
Charlie Pragnell states: 'We wish to give a first-class and welcoming impression to the visiting representatives from the ambassadorial international community for the good of the local and national community. Shakespearean understanding is a cornerstone of contemporary culture. We believe that highlighting these origins in a high quality manner is particularly important in this current political and economic climate. We would welcome further support from those minded to do so.'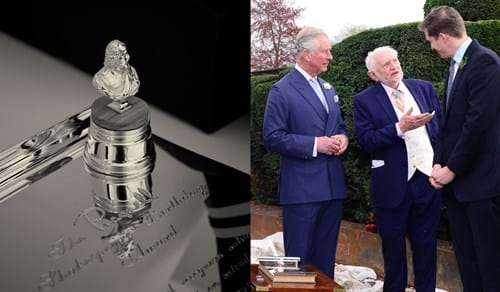 Patron of the Royal Shakespeare Company, HRH the Prince of Wales receives a royal gift marking Shakespeare's 400th Anniversary. Presented by Professor Stanley Wells and Charlie Pragnell
Pragnell Shakespeare Award
Introduced in 1990, the Pragnell Shakespeare Birthday Award is an international award funded by Pragnell the Jeweller of Stratford-upon-Avon It is presented annually on the occasion of the Shakespeare Birthday Celebrations luncheon in Stratford-upon-Avon. The award recognises 'outstanding achievement in extending the appreciation and enjoyment of the works of William Shakespeare and in the general advancement of Shakespearian knowledge and understanding'. Pragnell Shakespeare Award Roll of Honour 1990 Dame Peggy Ashcroft 1991 Terry Hands 1992 Professor Muriel Bradbrook 1993 Peter Brook 1994 Barbara Jefford 1995 Tanya Moiseiwitsch 1996 Sir Ian McKellen In 1997 the Award took the form of a tribute to the Flower family 1998 Sir Peter Hall 1999 Paul Scofield 2000 Dame Judi Dench 2001 John Barton 2002 The Folger Shakespeare Library 2003 Professor Stanley Wells 2004 Cicely Berry 2005 Corin Redgrave 2006 Sir Donald Sinden 2007 Harriet Walter 2008 Michael Boyd 2009 Michael Billington 2010 Barrie Rutter 2011 Patrick Stewart 2012 Dame Janet Suzman 2013 Simon Russell Beale 2014 Nicholas Hytner 2015 Sir Kenneth Branagh 2016 Sir Trevor Nunn 2017 Sir Antony Sher 2018 Jane Lapotaire 2019 Professor Jerzy Limon 2020 Juliet Stevenson CBE 2021 Dr John Kani 2022 Adrian Lester
Visit Pragnell
From Market Street to Mayfair you can be sure of a warm welcome at any of our showrooms across Great Britain.