Combining the surprising intrigue of hidden treasures with the magical world of fairy tales, each of the Mystery Rings has a secret function. From unlocking your own handmade jewellery box with the key ring, to keeping treasured secrets hidden in the Pocket Ring, there's more to each than meets the eye.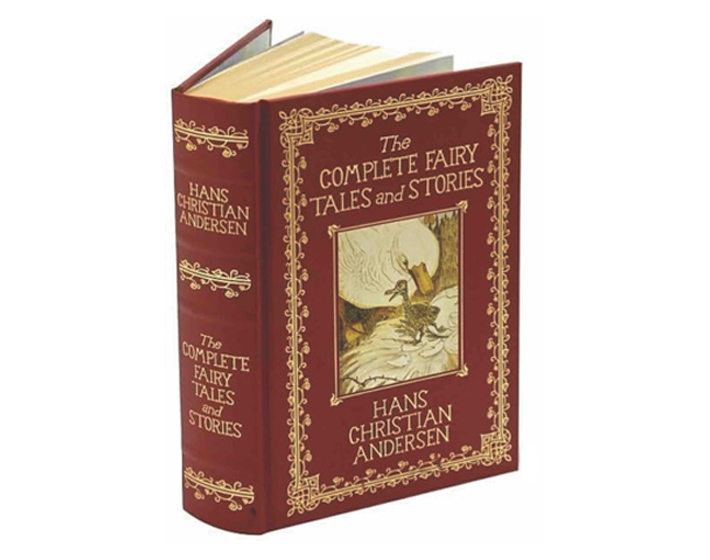 Inspired by Fairy Tales
One night at bedtime earlier this year, Charlie Pragnell read a fairy tale to his daughter, Poppy - the story 'Faithful Johannes'. In this fairy tale, the King produces a tiny key from inside his ring to unlock a secret door. Charlie shares that, as he read this story to her, "she immediately said: 'Daddy, you should make one of those.'" It stuck with him, and the concept behind what the key would be for, and how the 'key ring' could look, came to him over the next few weeks.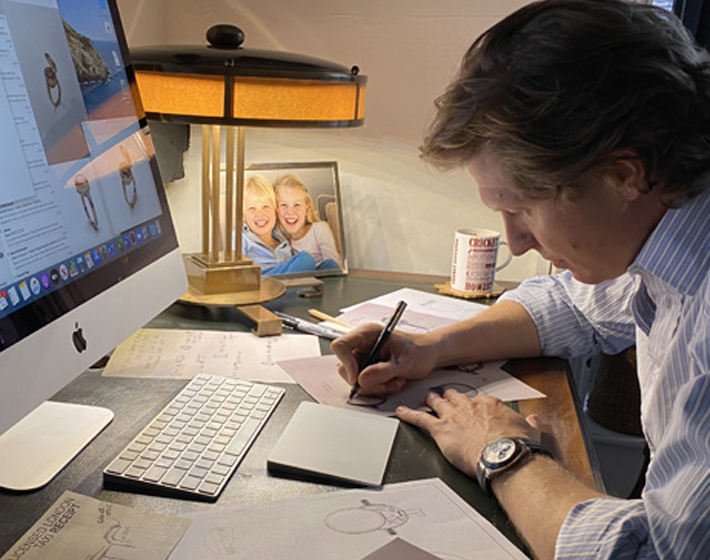 Sketches in the Dark
He then explains, "The Revival design vernacular struck me in the middle of the night - at 3am - and I found myself sketching on an old taxi receipt on my bedside table. I knew that to be worthy of fairy tales, the key would have to open some type of precious treasure, so I decided that it should open a jewellery box.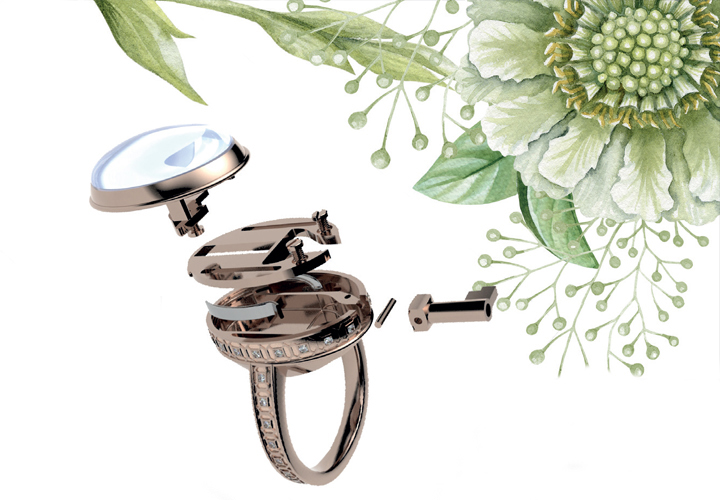 The Workshop
I took my initial drawing to our team of goldsmiths, and we worked together to engineer a mechanism so that the key could be attached to the ring, revealed from underneath the gemstone, and then could be concealed again afterwards.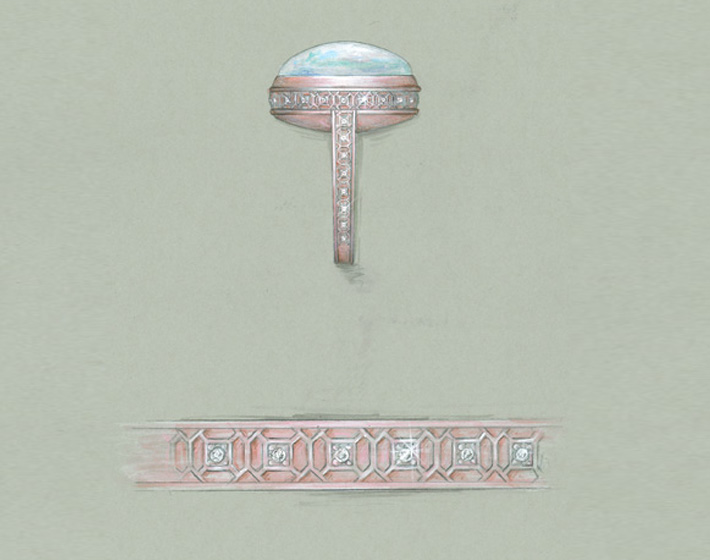 Magical Moonstones
The Mystery Rings have been initially presented with cabochon moonstones - phenomenal gemstones because of a property which no other gemstone exhibits: their adularescence. Their unique luminescent glow creates an air of mystery; it is a secret for only the wearer to know that there is anything hidden underneath these beautiful gems.

We chose to combine these hazy blue gems with the warmth of a rose gold setting, and embellished each ring with a halo of glittering diamonds. The pattern which surrounds the centre stones and extends down to the shoulders of our Mystery Rings is our signature motif, inspired by a Jacobean ceiling which had been hidden for more than 400 years - itself a mystery - and was only recently uncovered in our Stratford-upon-Avon 16th century Shakespearean Tudor building.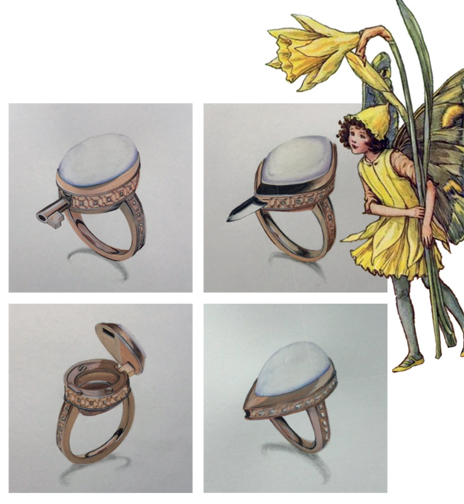 Family Inspiration
Charlie's daughter is not the only family member to inspire the Mystery Rings: "On our daily walks through the countryside, my daughter was often asking me about the ring, wanting to know how it was going to look, and asking to see how the designs were looking.

My son, Harry, overhearing this, decided he also wanted to suggest an idea - straight from the imagination of an eight-year-old boy came: 'what if it is a flick knife instead of a key?' So that's exactly what we did." The different mysteries contained in each ring lie beneath a specific stone shape: the knife is under the marquise shape, the pear shape hides a secret whistle, while the round stone tops the Pocket Ring, and the oval gem conceals the secret key.
MAKING IT PERSONAL
" Mystery Rings are designed by us, personalised by you."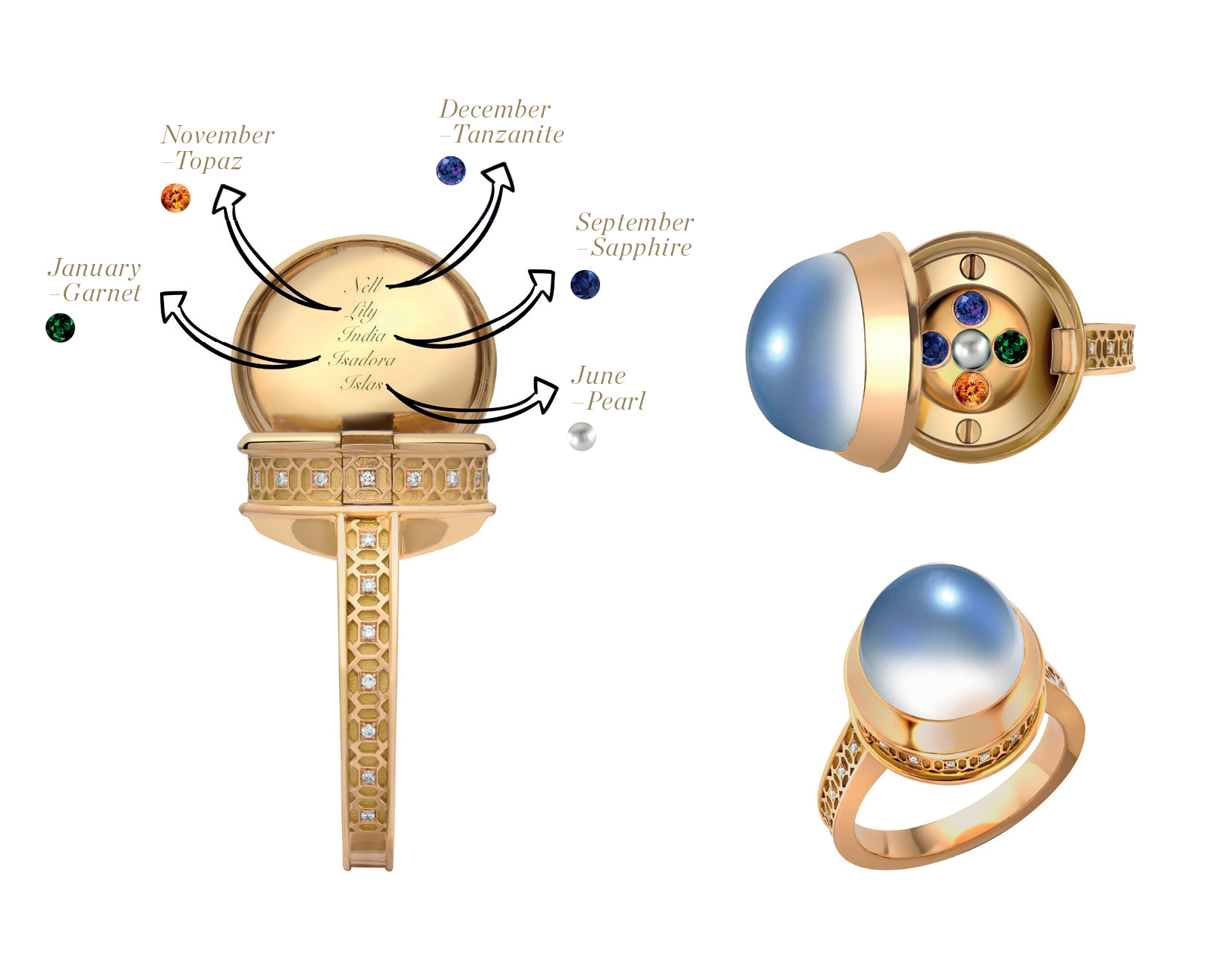 "We hope our clients will commission their own versions of the Mystery Rings - with alternative cabochon birthstones or favourite gems, and using different precious metals. They can be further personalised - particularly in the case of the Pocket Ring - with all of the secret treasures and messages you can choose to keep inside it." The Pocket Ring can contain an assortment of hidden charms: the birthstones of your children, individual engraved messages, an enamel object, a tiny sculpture, a single diamond, or even a heart shaped ruby.

We want to create experiences with our jewellery, which are passed on through generations - modern heirlooms which are cherished and tell timeless stories. The Mystery Rings are truly the original and sentimental creation of a sixth-generation, family-owned jeweller; designed by us, personalised by you.
Visit Pragnell
From Market Street to Mayfair you can be sure of a warm welcome at any of our showrooms across Great Britain.