The Tiara Collection
Pragnell is proud to present the Tiara collection: a new fine jewellery range that blends historic inspiration with contemporary design and the best of British craftsmanship.
The collection of handcrafted rings, earrings and pendants takes inspiration from the audacious Dove tiara, designed circa 1925 by Philip Antrobus of Bond Street. Established in 1815, Antrobus marked its place in history by creating Queen Elizabeth's engagement ring. In 1991, Pragnell acquired Antrobus and inherited the company's extensive archive of designs.

"We have an unbelievable collection of Antrobus artwork and sketches dating back to the early 20th century," says Tom Crookenden, Pragnell's principle stone buyer. "When we came across the Dove tiara with the wings extending down the side of the head we knew it was the perfect starting point for a new collection. The next step was translating the archive design into a piece of wearable, modern jewellery."

In the classic Tiara rings, the dove's body is replaced by a pear cut diamond or coloured gemstone, clasped with three claws between two delicately feathered, diamond set wings. The rings come in platinum, 18kt yellow gold or 18kt rose gold, with the choice of a white diamond, a vibrant Zambian emerald, a Mozambican ruby or a blue sapphire from Sri Lanka or Madagascar.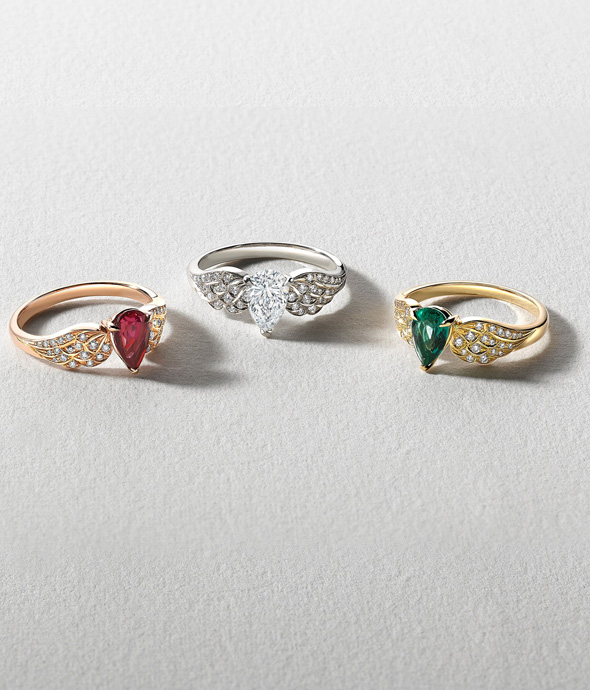 Each gemstone is carefully selected for its colour, quality and proportions. "The shape of a pear cut is incredibly important, more so than any other cut of stone," says Crookenden. "It's very difficult to find a really nice, bright, clean ruby or emerald of a certain size in the perfect pear shape. We will look through hundreds of stones and select just one or two."

The chosen stones are hand-set between winged shoulders, which glisten with 18 diamonds in varying sizes. Each one is meticulously thread-set between fine hand-engraving to replicate the bird's plume: an effect that took six months to perfect. Each ring takes six weeks to handcraft in Pragnell's British workshops, with the goldsmith's touch evident in tiny variations that make each one unique.

Whether worn as an unusual engagement ring or a statement cocktail ring, the classic Tiara rings are eye-catching yet supremely comfortable thanks to the flat, form-fitting bands. They are complemented by two sizes of contemporary earrings, which see thread-set diamonds rise up the ear in hand-engraved white gold, yellow gold or rose gold wings. A pendant, featuring the graceful wing motif on a delicate chain, completes the classic collection.
"The wing is a time-honoured jewellery design starting point - there's so much you can do with it, from simple, everyday pieces to something more extraordinary," says Crookenden. Indeed, the Tiara collection jewels are classic enough to be worn every day, while having a contemporary edge that makes them a striking finishing touch to an evening gown.

Drawing on Pragnell's design heritage as well as its exemplary craftsmanship, the collection maintains the daring spirit of the original tiara, reinterpreted for the bold, modern woman of today.