George Pragnell Poppy Brooch
On 26 November 2014 at Christie's London, Pragnell auction the 'Poppy brooch'. Designed and created by Pragnell, the 'Poppy brooch' has been handcrafted in our workshops. All of the proceeds will go to the Royal British Legion.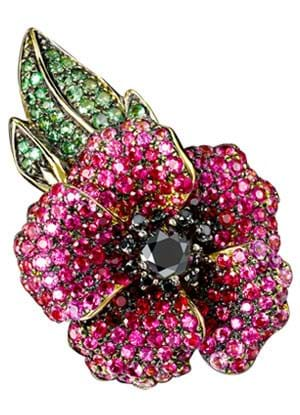 The Poppy is realistically modelled, with a brilliant-cut black diamond cluster centre, to a five petal surround, each entirely pavé set with circular cut sapphires graduating in tone from deep to light pink, with a single pavé set tsavorite garnet leaf.

The Royal British Legion

The 4th of August 2014 marked the 100th anniversary of Britain's entry into the First World War, a time when, in the words of Sir Edward Grey: "The lamps are going out all over Europe; we shall not see them lit again in our lifetime".

But a candle of hope was lit in 1921 when The Royal British Legion was founded by veterans in the aftermath of the First World War. Nearly a century on, Service men and women, veterans, and their families still call on us for help with their daily lives.

The Royal British Legion's role as the national custodian of Remembrance, remains to honor the fallen and support the living.

The Royal British Legion WWW.BRITISHLEGION.ORG.UK
Visit Pragnell
From Market Street to Mayfair you can be sure of a warm welcome at any of our showrooms across Great Britain.